... and I'm not even done with my countdown calendar yet hehehe! But we managed to put up the Christmas tree, the decorations (garlands, wreath and some Christmas stuffed toys, Christmas stockings, snow globes etc.) before December. So far, so good ... we are lovin' our house decors. Jeff and Ethan anticipates the Christmas lights every night and would even remind me if it's not lit! Perhaps I can make the calendar this weekend and have our Christmas photo shoot too.
As early as the 2nd week of November, Ethan already made his Christmas wish list and even wrote Santa all by himself! I'm a proud mom when he spelled the words without my help ... in fact, he doesn't want me to help him! I haven't photographed the list and the letter though because they were all written using a pencil. Perhaps, I can tell Ethan to trace it with colorful markers : )
Anyway, as I am writing this down, I'm sick with colds. It has been days that I've been feeling really tired but I won't listen to what my body is saying. There's so much to do the past weeks that I couldn't think of resting. (Even until now, I can see the clothes' hamper smiling at me with all those laundry and clothes to be ironed). I can go on with my to do list but that won't be Christmas related hehehe. So here I am, sniffing and a little dizzy but updating our blog.
I wanted to do the December Daily Journal by Ali Edwards but I know making the album isn't feasible at the moment. So I thought I'll just write down here my thoughts and other happenings as December unfolds. But I will not be writing each day of December, I figured out it's not that necessary. I will write as thoughts will come my way.
So for the first day of the month, I brought Ethan to his pedia. Not a good thing to start December though. Ethan has acute bronchitis and needs to take his meds - an antibiotic, a cough syrup (for asthmatics) and a cold syrup just in case he's having difficulties sleeping. I don't really like it when he has to take antibiotics because it's so hard to make him drink his meds! Ethan hates its taste ... who likes it, anyway?!


Anyway, after having him checked by his doctor, we thought of watching the movie, "A Christmas Carol". We've been anticipating a Christmas movie but I was quite disappointed after watching it. It's not that the movie was bad. But I realized it's not a movie for his age. It was quite scary for him. It was always dark, gloomy and scary (as the story needs to be). Several times I saw Ethan feeling restless. Near the end, Ethan can no longer contain himself and finally said, "When is the movie going to be finished?" I liked Charles Dickens' Christmas Carol and so as Jim Carrey but this movie is not for Ethan, definitely.

The next day (Dec.2), I sent Ethan to school. As expected, he wasn't in the mood as he was really feeling sleepy (as a result of his meds). When we arrived school, the students were practicing and dancing to different Christmas tunes but Ethan doesn't like to join them. That's unusual for him but I understand why. I left him and prayed he'll be okay in a little while. I know he will be because when I picked him up after his classes, he was full of energy again!
Here's my layout for
Scrap the Boys
'
Challenge
for this month:
Is your Boy a Grinch or an Angel?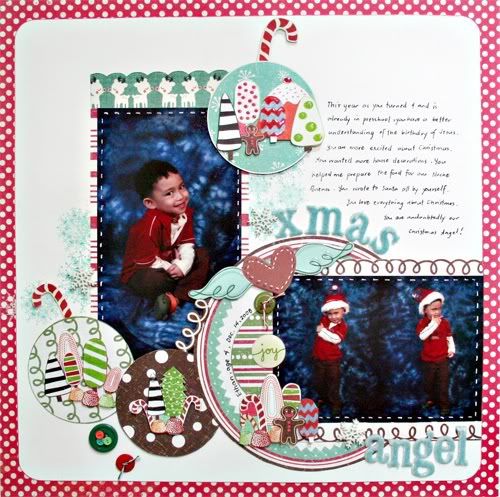 I used
Daisy Bucket Merry Wishes
, Kaisercraft, and Sassafras North Pole papers; Chatterbox chipboard, Ki Memories epoxy stickers, American Crafts Thickers, Fancy Pants rub ons and buttons, snow flakes,
Shabby Green Door Twists
, Zig and Uniball Signo pens.
Unfortunately this is the last blog challenge. It was great working with the blog owner, Susan, as well as with the other DTs. I'll be missing Scrap the Boys for sure.
-Pia