I've just watched myself on TV! I never had the chance with my previous guestings because they are always aired live and because I don't have cable TV bwahahaha! In fairness, 4 minutes and 5 seconds isn't bad at all, probably one of the lon
gest TV exposure Scrappin'Moms had! I was surprised to see that they didn't edit nor cut short our TV exposure. I love it that my layouts were shown in TV (ScrappinMoms, did you see yourselves too?).

The taping was held August 14, 2009. Now you know they don't air live hehehe. Anyway, I was told about this TV guesting the night before ... maybe 9 or 10 in the evening. Talk about showbiz hehehe! Anyway, none of the Scrappin' Moms will be available the next day so I was thinking if this will be worth the gas and the effort to go to ABS CBN, considering it's always a pro bono thing. Besides, Ethan has school test the next day and I was too busy reviewing him that night. But Jeff reassured me I can go if I want to and he'll take care of Ethan the next day. So, I called Arlene and told her if she wanted to come with me. She agreed (and this is the best decision since she literally made everything easy for the two of us). I slept at almost 2 am, trying to prepare for the guesting. I haven't mentioned that I didn't have any idea what will happen or what will be the topic of the discussion. When I talked to Belle of Working Mom Magazine at 11pm (WM are our contact persons for this guesting), she said it'll be about memory keeping, that's it!

The next day, Jeff dropped me off to Arlene's house in Alabang. When I arrived at Arlene's house, my jaw dropped as I saw the Town and Country - of all the cars she picked this one. We almost had everything in the car - tools, pps, embellishments, shadow box frames, printed copies of sketches, food, water, make up etc.! She even brought with her two assistants! Told you she made life easy for us and I'm thankful she was with me.

As I met with Marie (Belle wasn't there) at 12nn., we proceed to the dressing room. I was able to talk to the TV writer and to my surprise found out that the topic for this episode is "reunions and friendships"!!! The Star Circle Quest Batch - Sandra, Roxanne, Melissa and Joross will have an instant reunion in their show. Ok, so I wanted to panic ... because I wasn't ready ... who was, anyway?! She told me that I have to prepare a half done layout so that I can do demo about it.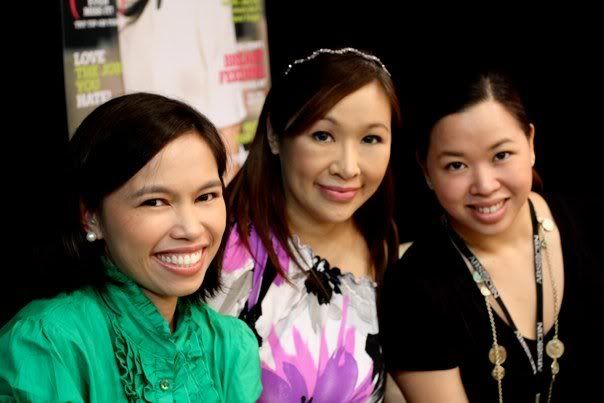 Me, Arlene and Marie Aquino (Marketing, ABS CBN Publishing)
I had to look on the layouts I brought with me ... anything about friendships, I thought. Good thing I brought my layouts about Scrappin' Moms and about Jeff's friends. Unfortunately, I don't have any picture for the demo. I chose one photo of Ethan and convinced myself this will do.
It took almost 4 hours of waiting before we were called. For the last 4 hours, I can hear my tummy already (I hardly ate anything because I was doing my layout for the show), I was feeling really cold (if you've been to ABS you would know what I mean), I was memorizing my lines (they didn't give me any script whatsoever so I had to come up with my own and be ready in case the hosts asks me questions). Marie told me to mention about Working Mom Magazine, sort of this way, "for more featured articles on bonding activities with your friends, kids, grab a copy of Working Mom Magazine". And yes you bet that's the one I forgot!!!!!!!!! I felt I was doomed and I was so embarassed when I went down the stage and looked at Marie. I have to call every one I know from WM just to apologize for my mistake!
Anyway, the guesting turned out well (except for the one I mentioned). I don't have problems with speaking in public,
buti na lang makapal mukha ko hehehe
. I explained a little about memory keeping, the words that came out from my mouth is already obscure to my memory. hehehe. I taught Sanadra a little on scrapbooking, I was giving her the letters and the buttons but she would hesitate everytime I tell her she can place them anywhere she wants to. To top it all, I was able to promote Scrappin' Moms and the upcoming
Scrapfest
! Arlene though didn't get to talk because when the PA asked us who's going to do the demo and explain, Arlene pointed to me. I was given a lapel but I was thinking she should've been given one also because she was also a guest.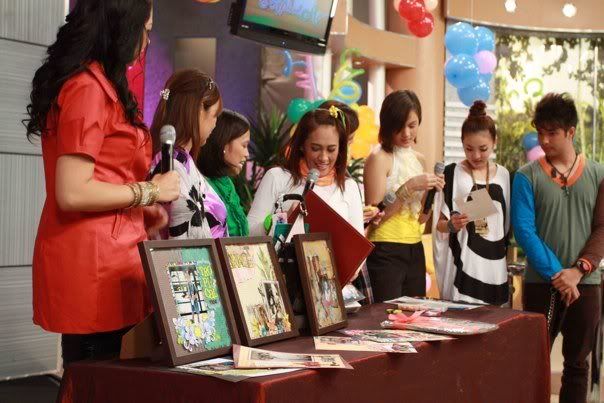 Off air, Ruffa talked to me coz she wanted a scrapbook album for herself. I'm keeping my fingers crossed because it'll be good for Scrappin' Moms. Also, Roxanne approached me for my number. She's a nice girl and very beautiful. I had to tell her I was starstruck. Back then when she was still in SCQ, she was my bet and I've always liked her pretty face.


It felt good to be able to see myself in TV again. I'm glad that I was able to show my layouts and tell the audience about this wonderful hobby. I hope that many will be encouraged to scrap and our community of scrappers will grow tremendously. Most of all, I 'm happy that I was able to represent
Scrappin' Moms
. I hope one day (you know this
Liza
)
we
will be given a break we deserve ; D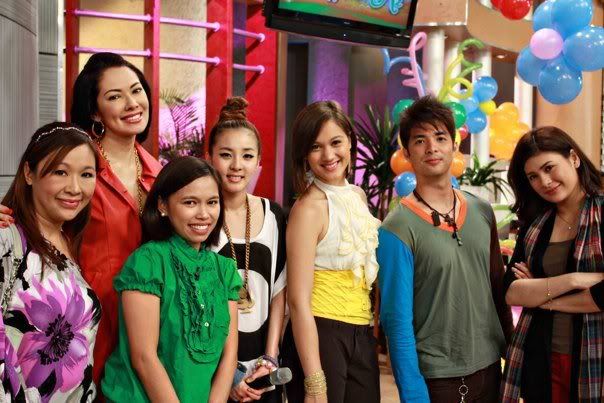 Thanks to Working Mom Magazine and to Arlene for coming along with me!
-Pia