Tomorrow is another big day for Ethan. He is (no matter how I deny the fact), turning five years old! I don't know how many posts I can write about his growth on my blog ... I maybe saying the same thing over and over again each year ... that is every time he turns another year older. Sigh! He's so grown up already. He has been reading and doing addition in school. He's artistry has grown into another level too, he's getting better each day and I'm so proud of him!
Take a look at one his many drawings. He did this a few months ago, I wish I can keep and scan all his artworks. I used Prima Hello Space Boy papers to make this project from
Lasting Impression
.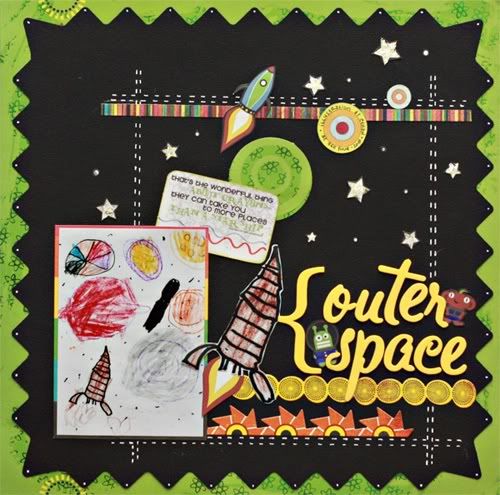 Ethan loves the outer space. He's fascinated with the planet Saturn the most. He collects rockets, space shuttles, UFOs now instead of cars. He loves to look at images of the galaxy, the planets, the stars etc on the internet! And so for his 5th birthday, he wants an "Outer Space" theme!
We are having a small party tomorrow with an "Out of this World" theme. Will post pictures tomorrow! Wish me luck!
-Pia