You have no idea how glad I am to be finally back!!! We finally have internet connection after almost 2 months!!! I know that I've missed some deadlines for my DT assignments. I am slowly doing all the missed projects and updating my blogs and online galleries. I hope you'll bear with me as I slowly make my move back.
So many things have happened after the move. Everytime we say we're home, we actually mean, "WE ARE HOME!". Yes, this is home for us now no matter how small. We are enjoying the new house as well as all the adjustments that come with it. Also, it has been two weeks now that my house help have left us. So even though internet connection is back, I''m spending more time in front of the washing machine again instead of the computer hehehe.
The past week has also been sad because of two things: first, the aftermath of the typhoon Ondoy has left our country really devastated. I can't tell how many times I cried infront of the TV screen because of pity. We're lucky that we are safe and none of our family members have been hurt during the typhoon. But I pray for those who were really affected and have lost their homes and loved ones.
Second sad news is that it's time for me to say farewell to
Daisy Bucket Designs
. It was a wonderful experience to be part of an international manufacturer's design team. I've been with DBD for two years and I'm very honored to be part of this team. I'm thankful for the generosity of James and Cassandra Cooper, owners of DBD. I'm also thankful for the friendships that have bloomed as I work with the rest of the design team.
I'm sharing with you the last layouts I created for Daisy Bucket but failed to post last month:
Pancake Art
matls used: Daisy Bucket -
My Little Monsters
;
Shabby Green Door
- twists; Bazzill cs; Pink Paislee letter stickers; American Crafts Thickers; buttons; Zig pen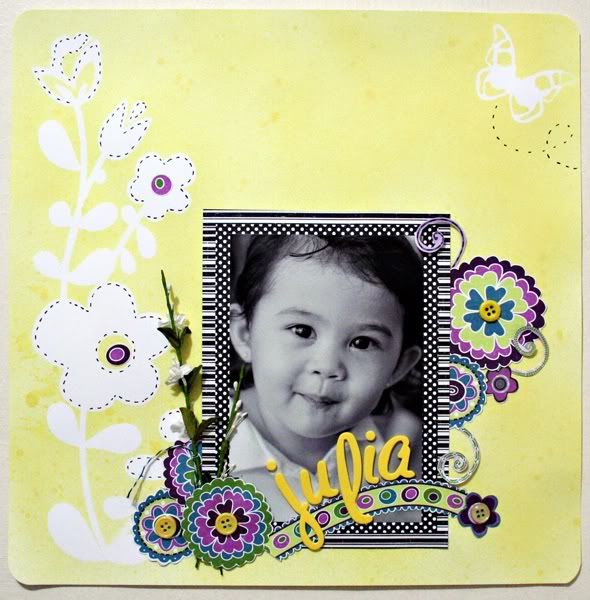 Julia
(this is for my friend's niece)
matls used: Daisy Bucket -
Posh Posies
and
Little Black Dress
; Bazzill cs; American Crafts Thickers; buttons; Tattered Angels Mist; buttons; flowers and Zig pen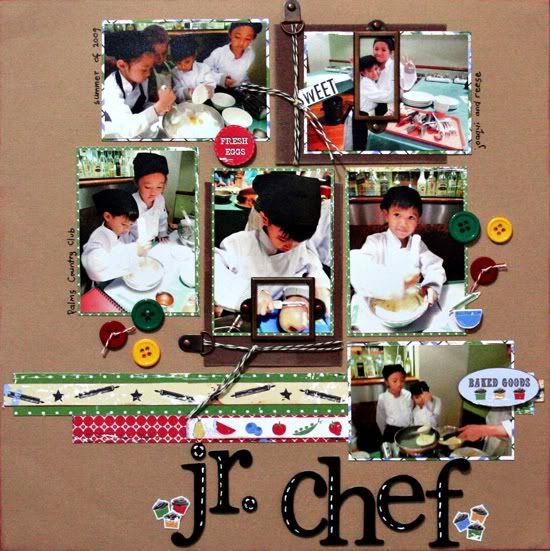 Jr. Chef
(this is for my friend's son, Joaqui)
matls used:
Shabby Green Doo
r
-
Farmer's Market
(Blue Ribbon Recipe, Sweet Peas & At the Market), Cherry and Lime Twists,
Daisy Bucket - Chipboard Text
, Bazzill Kraft cs, buttons, We R Memory Keepers metal embellishments, Making Memories black paint, Zig and Uniball pen, Clearsnap ink,
On a happier note, since we've moved, I'm very excited to decorate the house and so I created a halloween wreath and a countdown to Halloween calendar: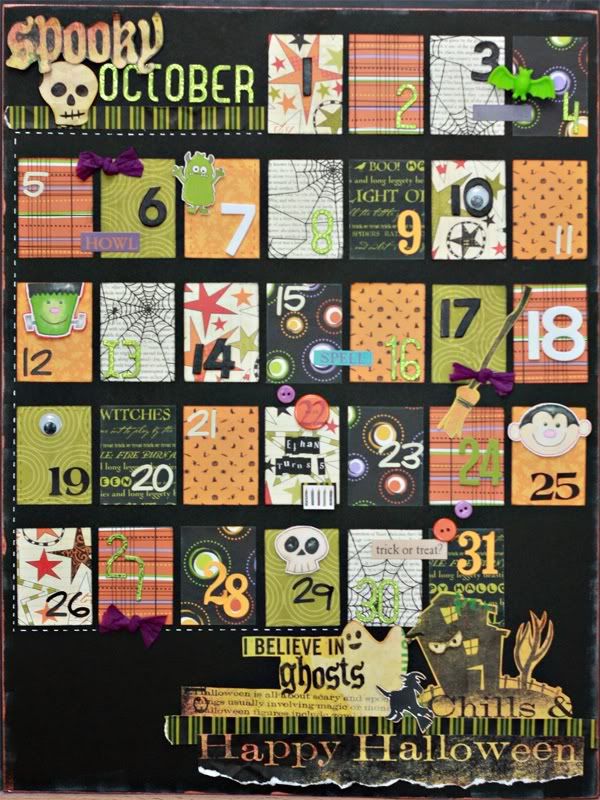 For materials and instructions for this project, please visit
Lasting Impression.
The bat (green on oct. 4) has a magnet at the back which Ethan can move each day. Aside from Halloween, I also included Ethan's 5th birthday which is on the 22nd of this month. Noticed that I put emphasis on two dates: 22 and 31 by embellishing the dates with buttons.
That's it for now, I'll be posting my halloween wreath in awhile. Back to house chores ...
-Pia