Remember this song from the 80s (I think)? Thanks for my friend, BJay for giving this title! I initially planned for
Whip Up
(yeah, I know it's quite boring, I was becoming so desperate coming up with a good title). My friends Liza, Ems, BJay, Joanne and Mia came to the rescue and I can't tell you how creative these girls in coming up with very good titles. I might use them in the future!
Anyway, if you are wondering why I was so engrossed and made a career out of looking for a title, it's because this month's challenge at
Scrap the Boys
is all about boys with food - whether cooking, baking, harvesting or eating!
But there's a twist to the challenge, we have to use a cooking term in our title (words like chop, knead, stir, whip, beat, pipe etc.) Here's what I came up with: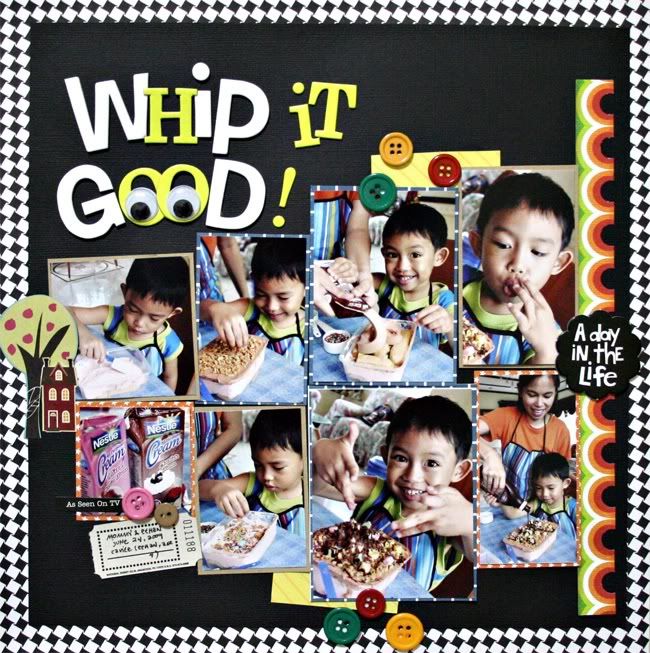 I mentioned about the title Whip Up because we were preparing a very easy and quick dessert but came the title Whip it Good so I changed my mind. While I was creating my layout, I realized we didn't whip any ingredients at all hehehe. Too late though ... but I love how this multi photo layout was pulled through!
I had to write my journaling at the back of the layout because I can no longer find a good spot. Here it is:
You saw these chocolate and berries Nestle Cream at the supermarket while a promodizer was distributing free samples. You didn't stop from persuading me to buy these. You've always wanted to bake but since I don't know how, you are contented to make a refrigerator cake instead.
You enjoyed every minute of creating this cake especially the last part where you can lick all the cream you want! Yummy!
Photo: June 24, 2009
materials used: Scenic Route Garden Grove- Flower St. and Scrap Strip 1 pps and Superstar chipboard and Kraft cs, Making Memories pps (photo matting), October Afternoon (house), K & Co. (tree), DCWV black cs, buttons, 7 Gypsies ticket stub and word stickers, Zig pen, Heidi Swapp alpha chipboard and American Crafts Thickers

Photography by Jeff and Pia Lopez
I hope you'll give this challenge a go (calling all my friends who have boys!). Please email yor entries by the 31 st on
susan.longman@bigpond.com
Thanks!
-Pia