Ethan wants a puppy badly. That's why when he saw "Pochi", the shitzu my sis in law owns, he wants it for himself too. I had to explain that owning a pet entails responsibility, it's like having another family member and that is something we cannot afford to have at the moment.
Here's a layout I made for Ethan and his "Pochi".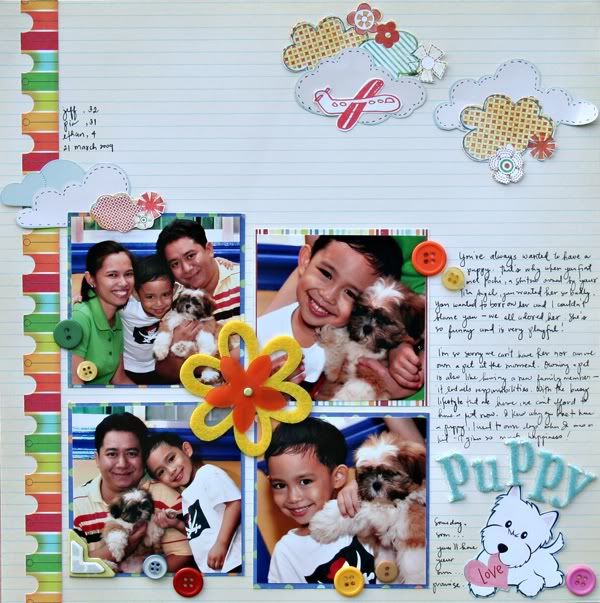 Journaling:
You've always wanted to have a puupy. That's why when you first met Pochi, a shitzu owned by your Tita Angel, you wanted her so badly. You wanted to borrow her and I couldn't blame you - we adore her, she's so funny and is very playful!
I'm so sorry we can't have her nor can we own a pet at the moment. Owning a pet is also like having a new family member - it entails responsibilities. With the busy lifestyle that we have, we can't afford to have a pet now. I know why you love to have a puppy, I used to own dogs when I was a kid, it gives so much happiness!
Someday soon, you'll have your own, promise ...
matls used: Scenic Route, October Afternoon, Sassafras Lass and Fancy Pants pps, Queen & Co. felt flower and brad, American Crafts plastic flower and Thickers, buttons and Zig pen
Photography by Jeff Lopez and Meng Lim
-Pia