I'm back. We have been very busy (and still busy) in the household. Hopefully, we can move to our new place soon. And hopefully too (with the help of your prayers) we'll be able to surpass everything that we are going through right now.
Anyway, since I've been away for almost a week. Here are some updates:
To celebrate the
National Language Month
, last Aug. 17, Monday was the Filipino Costume Parade at Rosemont School. Incidentally, Rosemont is also celebrating it's 23rd Anniversary! So after the parade, students were given "Sorbetes" as a treat.
Ethan wore a Barong Tagalog during the parade. Hopefully, I can come up with a better Filipiniana attire next year because this is the 2nd year that Ethan wore his Barong hehehe.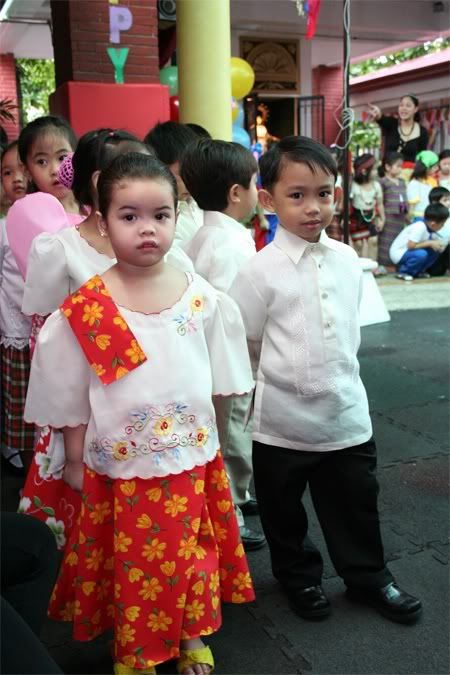 JK-D with Teachers Yohan and Noemi
.
I don't think we will ever be able to take a class picture where all of the kids are smiling or atleast looking at the camera hehehe.
On another note, today, my box from
Daisy Bucket
has arrived!!! It has been months since the last time I received a box full of goodies. Thanks Cassandra!
Anyway, since I was too excited to play with my new stuff, I was able to make a quick layout this afternoon. Pardon the photo, it has been raining here and I couldn't take a decent picture of my layout. Hopefully, tomorrow will be sunny so I can take photos of my other 2 layouts that I recently finished during our 2 TV guestings (separate posts on this!)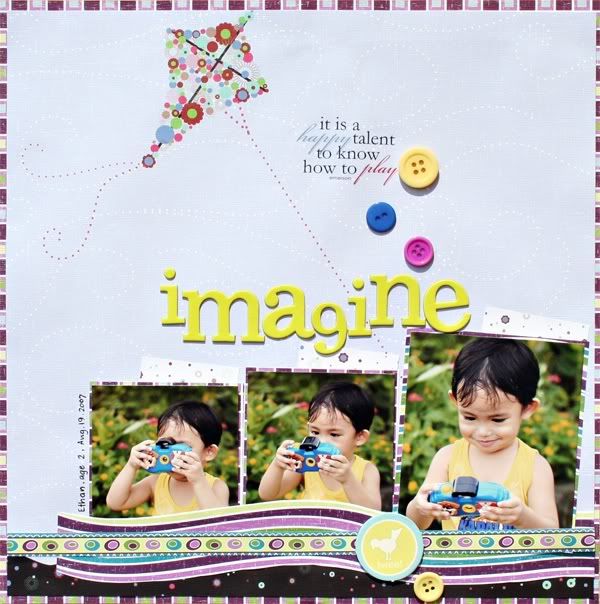 I used
Posh Posies - Groovy and Mod
and Beautiful Day - Kite papers and rub ons for this layout. It's a pretty simple one, no techniques ... just plain white space. I liked it this way!
This is Ethan while playing with his camera (it's a real one but we didn't put film on it). Since he was so used to seeing Jeff with his SLR, he pretends that his camera has an LCD screen too! Everytime he presses the shutter, he will take a look at the picture he took, although there isn't really a screen to look at hehehe! I love that he uses his imagination to play.
other materials used for this layout: buttons, Heidi Swapp letter chipboard, Scenic Route chipboard and Zig pen
Photography by Jeff Lopez
-Pia