I've been wanting to join the Kaya Challenge. Once, I actually did but wasn't able to submit my
entry
because I was also waiting for the layout to appear at the Daisy Bucket blog first. Unfortunately, the layout was posted a month after the month's challenge.
Anyway, when I read
Janis
' June
Kaya
challenge (she's celebrating her bday this month!), I told myself this is not for me because I don't remember buying any pearl embellishment. But lo and behold as I was recalling my stash, I remember having a few (I think!) from Chatterbox as part of my prize kit hehehe. How many did I find? 3!
Dami no?!
So, since I was racking my brain how to use the three pearl brads that I have, I overlooked the challenge rules that was to use a photo of myself! So there, I was able to make one
pero mali naman
! LOL!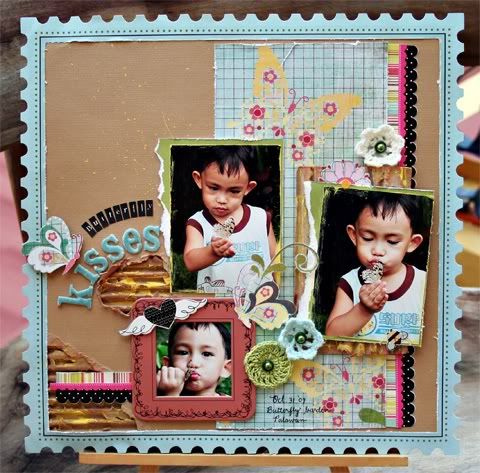 I'm proud to say that I used 11 manufacturers in this layout (Yay I mixed them!) - Making Memories (postage stamp paper, letter stickers and yellow paint), Bazzill Kraft cs, BasicGrey (butterly), My Mind's Eye (green, stripes), Ki Memories (pink border stickers) , Creative Imaginations (dotted black border stricker), Chatterbox (pearl brads , green crochet flower and photo frame), Fancy Pants (white and blue crochet flowers), American Crafts (Thickers), Zig (pen), Clearsnap (ink). Also, I was able to use some stash that are more than 2 years old!
I used #24 sketch from
Inspired Blueprints
in making this layout (another yay becoz I find it hard to follow a sketch!). I tried distressing, layering and even splattering paint (and I intend to do it again!) I painted the cardboard before attaching it at the back of my layout.
Check out the other creations posted at the
blog
. If you are a member of Pinoy Scrapbookers Yahoo group, you are most welcome to join. Challenges are posted every first day of the month!
-Pia