It's my turn to post my first ever challenge at the
Scrappin Kids Forum
. I'm inviting you to come and join us this weekend. Resident Designer
Issa
also posted her challenge at the forum. RD
Cookie
will be hosting a tutorial at 8 pm tonight.
Challenge title: Homemade Goodness
My challenge is to use the word,
"homemade"
as an inspiration on your layouts.
- Think about homemade meals or desserts you and your kids make together.
- Think about your kids' artworks
- If you have other hobbies/passions like painting, beading or pottery, you may want to scrap about these too.
home•made –adjective 1. made or prepared at home, locally, or by the maker's own efforts: 2. made in one's own country; domestic 3. made, contrived, or assembled by oneself; not professionally made or done; amateurish
Source: Dictionary.com
The word homemade does not necessarily have to be part of the title or journaling. Use the word as a jumpstart for your layouts.
Here's my layout about my son, Ethan, making the
Filipino version
of the fruit salad the day before Christmas.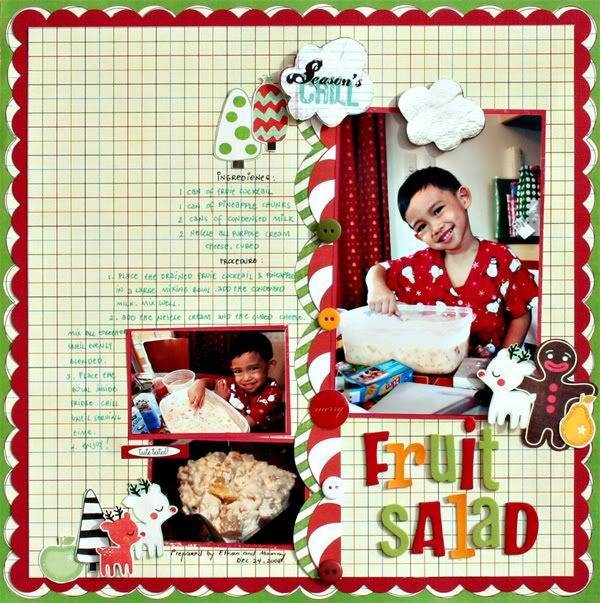 materials used: Sassafras Lass, DCWV, Making Memories pps, Bazzill scalloped cs, Fancy Pants run on (Season's Chill), buttons, Zig pen, American Crafts Thickers.
Photography by Pia Lopez
It's a weekend of fun challenges and a tutorial at the SK Forum! Happy creating!
-Pia