It's that time of the year again. We are so excited about the holiday season because we are celebrating it on our own house for the very first time. As I put down all the Halloween decors, I'm starting to plan our Christmas decorations. Ethan has been telling me to make the countdown calendar as early as the first week of November as soon as I finished the countdown to Halloween! Anyway, I'm still thinking what to do with the Christmas calendar this time. The Halloween calendar was a hit to Ethan not to mention it was also an educational material. Since they are doing addition up to number 20 in school, the calendar was sort of a reminder of the numbers 1-20 (and even beyond that) and it was a way to teach subtraction too which they are taking up right now.

I started to put down the decorations from the wreath and I'm beginning to plan for the colors that I will use this year. I usually have a theme each year. I mean I have specific color combinations to use inside the house. Talk about OCness hehehe!

The other day, we bought our first ever Christmas tree and we are all so excited to put it up this weekend!

But before I start posting my Christmas projects for this year. Here are some photos I didn't get to post last month.

The Halloween wreath I made ...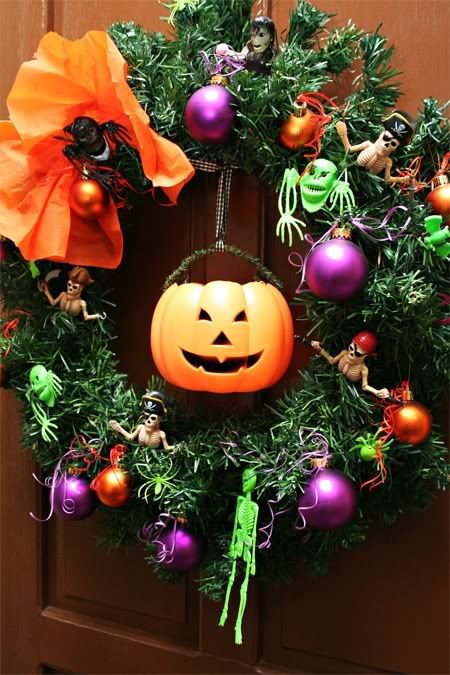 Big ribbon was made from crepe paper. Purple and orange balls were tied with Daisy Bucket paper ribbons. Skeletons, bats, skull, spiders are plastic toys from SM. The pirates, the zombie and monster are finger puppets ; D
... and the treat bags I made for Ethan's classmates for Trick or Treat: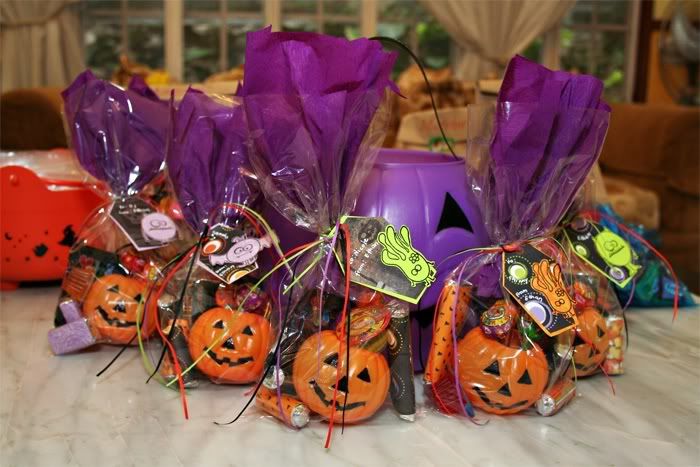 I filled the pumpkins (I bought them from Divisoria) with lollipops and chocolates. I wrapped Mentos candies, Kitkat bars and Choconut with Halloween themed patterned papers (mostly scraps). I placed all the goodies inside a plastic bag and tied it with Daisy Bucket ribbons. I made the tag shaped like a coffin and stamped Little Monsters (also from Daisy Bucket).

And here's Ethan as racer. As soon as he fitted this costume, he told me, "I want this already"!
I have a five year old in the house now. Ethan turned 5 last Oct. 22. We had a simple "Out of this World" birthday party at his friend's house.