"Louie", that's the name of the rabbit Ethan played during their Literary Presentation, "Rosie's Adventure". Ethan was quite shy when the program started, something unusual with his personality! During the dance numbers, he would be looking at his classmates from left and right as if he doesn't know the steps! He's really a funny boy!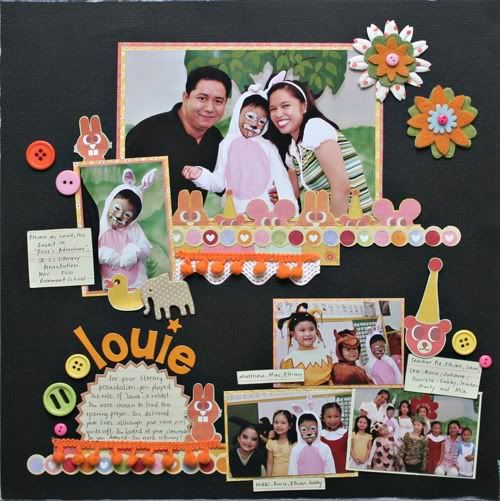 title: "Louie"
materials used: patterned papers - Sassafras Lass; stickers - Jillibean Soup, BasicGrey, Sassafras Lass; flowers - American Crafts, Prima; buttons; chipboard - American Crafts; ribbon - Prima; ink - Versamark
An update on the layouts I made for the past two months - well, I couldn't keep up! I was expecting to make atleast 10 a month but I'm always stumped. Here's hoping for more layouts by March.