Soon Ethan will be graduating from Senior Kinder. How fast time flies. Three years ago, we were just attending our new parents' orientation. Now, we are all familiar with the school, the administrators, teachers and auxiliary staff. We love Rosemont much as we love all the people we have met along the way including co-parents whom we have become close friends.
I'm sharing with you a layout of Ethan's 1st day in Senior Kinder. I created this layout last year but didn't get to post it here. I included a pencil which Ethan actually used this schoolyear.
title: Senior Kinder
materials used: patterned papers - Crate, October Afternoon, Sassafras Lass, Cosmo Cricket; stickers - American Crafts, Heidi Swapp, Scenic Route; pen; Ethan's own school pencil
The pictures include the classroom of Ethan (I took a picture of the their door), the class list, Ethan with his new class adviser and of course Ethan with his new school bag. I'm glad I took all of these little details that day.
Here's another layout using the souvenir photo taken during Rosemont's Father's Day. We really enjoyed this year's Father's Day because Ethan and Jeff got to play golf and pass the baton together! Ethan is also proud that Daddy took the extra effort to dance during the Cheerdancing Competition.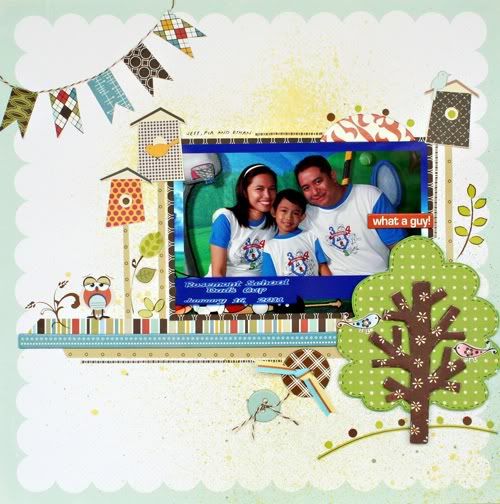 title: Dad's Cup
materials used: patterned papers - Bella Boulevard, Echo park, Scenic Route, Daisy Bucket; chipboard - Bella Boulevard; rub ons - Daisy Bucket; mists - Tattered Angels; baker's twine - Shabby Green Door; ribbon - Ki Memories