It feels good to be back on posting at my blog. As you all know by now, I'm pregnant with our second child and with no househelp for more than a month and a difficult pregnancy, blogging and scrapping took a backseat for awhile. I managed to make a few layouts during the first month of the year unfortunately my camera's kit lens is no longer working so I wasn't able to take pictures of them.
Anyway, I'm happy that Arlene, a friend of my mine lent me her kit lens so now I got to take pics of my layouts! Yipee! Not only that, my friends, April, Arlene and Ria gave me some papers and embellishments - double yipee for me!!! It's really nice to have very generous friends! I also got my DT kit from Lasting Impression - yummy papers from October Afternoon! I'll be working on my DT layout and share it soon!
Now, here's a layout I've just finished. My other layouts would be posted on the following days.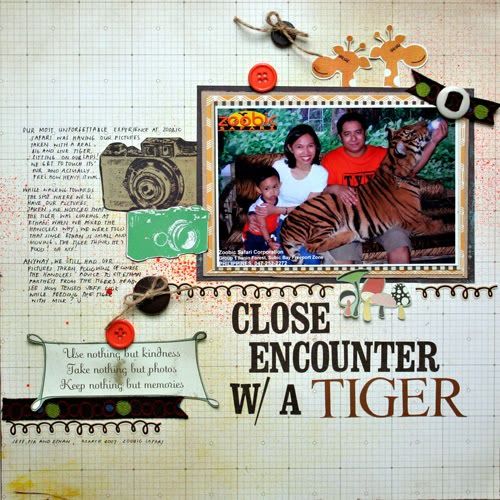 Layout title: Close Encounter with a Tiger
supplies used: patterned papers - Studio Calico, Sassafras Lass, Cosmo Cricket, My Mind's Eye; stickers - Echo Park, K&Co., Scenic Route; ribbon - Fancy Pants; mists - Memories Mists; ink - Versamark; others - pen, rafia, buttons
By the way, thanks so much for all those who signed up for mine and Ria's class! We'll see you on March 19 at Lasting Impression!
-Pia