Notice the sudden change of weather? It must be the start of summer! And because of that weather change, I'm having asthma attack ... oh well! It's worse at night time when I'm already lying in bed. It's like there's an orchestra in the house ... I'll cough, followed by Ethan then Jeff hehehe.
Speaking of summer, here's a layout I made about Ethan's first summer out of town trip. It was his first time in the beach although we didn't let him swim yet.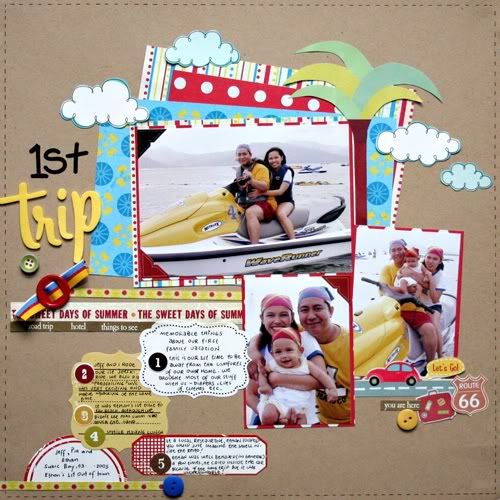 It took more than three hours to get to Subic coming from Cavite and I was already worried about the long trip for Ethan because he was only 5 months old. But we survived it. Jeff and I also had our first try in parasailing although we didn't bring our camera in the boat so there weren't any pictures to show.
title: 1st Trip
materials used: cardstock - Bazzill; patterned papers - Lily Bee (thanks Iris!), My Little Shoebox, Imaginisce, Fancy Pants; buttons; ribbons; stickers - Pink Paislee, American Crafts, Shabby Green Door, 7 Gypsies; pen - Sakura