It's summer time already (with some rains lately hehehe)! Most of us go on vacation trips during the months of March, April and May (I'm talking about here in the Philippines). In our family , we have so many pictures taken during our vacation trips that I haven't scrapped. Here's one of those pictures that I'm glad I've finally scrapped a month ago.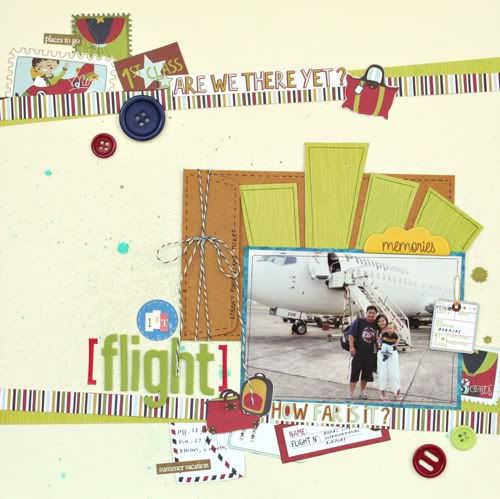 title: 1st Flight
supplies used: cardstock - unknown; patterned papers - Prima (Thanks Iris!) and K&Co.; mists - Tattered Angels; baker's twine - Shabby Green Door; others - coin envelope, buttons; stickers - Shabby Green Door, Jillibean Soup, Making Memories and 7Gypsies; chipboard - Bella Boulevard; pen
Ethan was still a baby during this time. It was his first flight in a plane! To hold the plane ticket that I have kept for almost 7 years hehehe, I used a small envelope I bought from a local bookstore. This is actually my first layout for the year but I never got to really finish it till the other day.

Since I started posting a travel layout for this month, I might as well post more vacation/travel layouts for the next days. Till the next post!