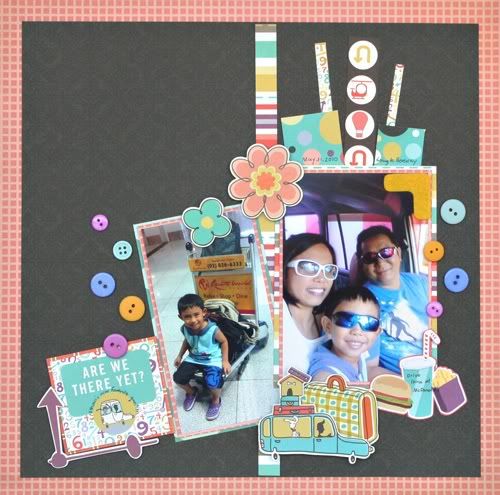 Must be the new famous line when we are out on trips. Ethan suddenly became very impatient with long trips. For our previous trip to Boracay, we traveled for an hour from our house to the airport. As soon as we've reached the airport, your guess is right, he asked if we were "there" already! When the airplane reached Kalibo, he asked the same question. On our each stop, he kept on asking me. By the time we reached Caticlan Port, I told him that the island of Boracay could already be seen from where we were standing. I laughed when he answered, "But I don't have energy anymore!"
Pardon me for the poor quality of the photos, we were only using our cellphone camera.
Thanks for your visit!
title: Are We There Yet?
materials used: patterned papers and chipboard - Cosmo Cricket Joy Ride and Li'l Man (thanks April!); K&Co.; others - buttons