Today marks the 1st day of December. We are so excited to do our countdown. Again, I didn't make an advent calendar this year because I am running out of supplies hehehe. But I'm determined to scrap some Christmas layouts this December and not to worry too much about the bills. I wanted us to enjoy Christmas especially that we are in our new home.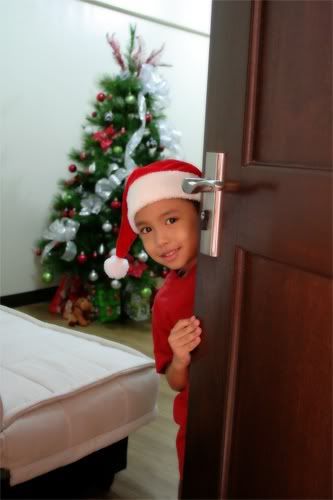 Welcome to our Home!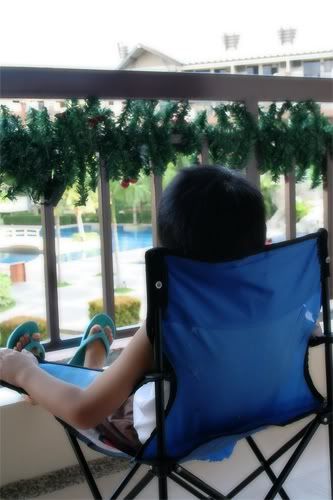 This is where Ethan usually spends most of his time here. He sits on his chair, eats his pandesal and enjoys the view from the balcony.
Last night I talked to Ethan and explained to him that in 25 days we will be celebrating Jesus' birthday. It's a good thing he didn't ask me how old is He : ) I told him that we will give Jesus a birthday gift by doing good deeds each day till the 25th. Of course, doing good deeds need not be done only during these days. I just want Ethan to make a conscious effort each day to do something good. I told him that at the end of the day, I will ask him what are his good deeds.
Ethan knows the birthday of Jesus but he's quite unsure of our "birthday gift" and instead suggested we buy something from the store hehehe. I needed to explain further why Jesus would appreciate more if we do good to others. He then agreed ...
I hope this is a good start.
I took pictures of our Holiday decors that have been up for quite some time now. I used mostly what we already have from the previous year. Though we added some black and white balls in our tree. Since we noticed that most of our furnishings and even curtains are black and white, we decided to use those colors in our tree too.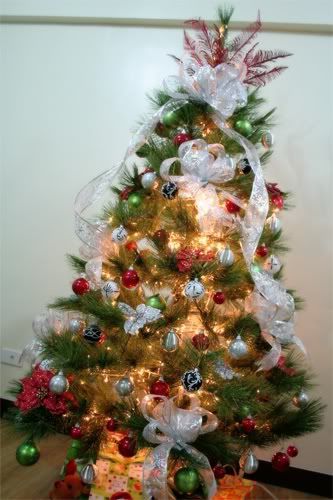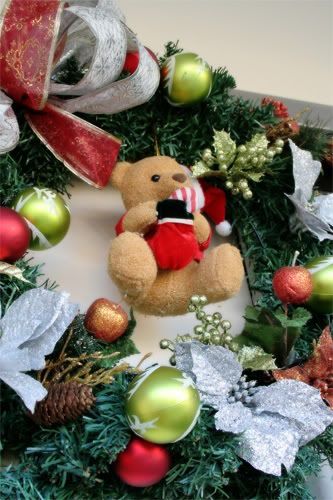 The Christmas bear been with us since Ethan was a baby. For sentimental reasons, I decided to place it at the middle of the wreath.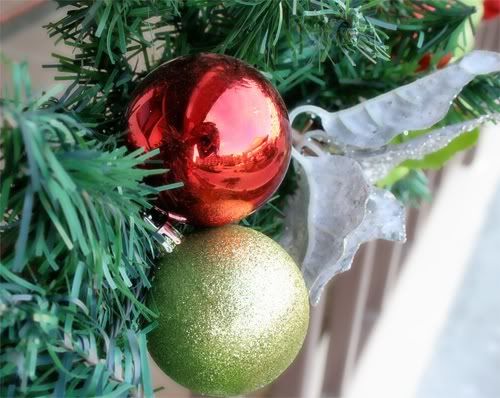 We put a garland on our balcony railing. I liked how I was able to capture the reflection of the clubhouse and the pool.
While we were putting up our decors, a funny thing happened. I was almost done with the tree when I said that I'm going to buy a tree skirt. Here's what the kulit bulilit has to say:
Ethan: What? A skirt for the tree? That's so silly mom!
He's not yet contented with that comment and further added:
Ethan: : Imagine, putting a skirt on the tree?!? (umiiling iling pa)
My life will never be dull with this boy around ...
Anyway, it was a good thing that Jeff helped us put up the Christmas decors this year. I really appreciate all his help. I've always wanted him to get involved with the decorating of the house. Unfortunately, there aren't any pictures for me to share. It was quite a handful to decorate and take pictures at the same time.
Now for some new layouts ... I finally took pictures of some of my quickie layouts.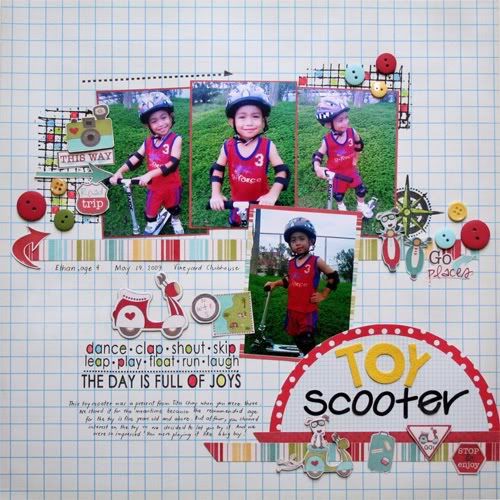 The stamps look like rub ons, right? That can easily be achieved by coloring the stamped images. I was like a kid and was enjoying myself with the colors!
title: Toy Scooter
materials used: patterned papers - Imaginisce Scooter's Vacation (Ruffin' It,Now Em-barking, Go, Scooter, Go), Lily Bee; chipboard - Imaginisce; stamps - Daisy Bucket Designs, Tim Holtz; color pencils - Faber Castell; ink - Staz On; letters - Prima and Pink Paislee; buttons - Fancy Pants
Now for a Christmas layout. Here's Ethan when he was still three years old. My mom bought that cake for Christmas so Ethan can blow the candles for Jesus : ) This another tradition that I wish to continue.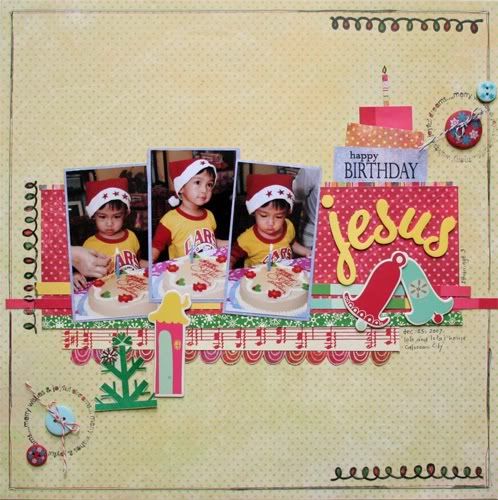 Some of the papers that I used here are not Christmas themed. I used the same techniques with the stamps but I can see that I'm not good at it : ) Oh well, better luck next time.
title: Happy Birthday Jesus!
materials used: patterned papers - BasicGrey, Cosmo Cricket, Kaisercrafts; chipboard - Cosmo Cricket; buttons - Fancy Pants; stamps - Daisy Bucket Designs; ink- Versamark; color pencils - Faber Castell; baker's twine - Shabby Green Door; letters - American Crafts
Thanks for dropping by!
{Countdown: 24 days before Christmas}
-Pia