Before the Christmas stories, I want to share with you a layout I did the other day. I was so inspired to create that night after a visit from a friend who's everyone's idol in scrapbooking : )To find out who is she, read on ; )
title: Decorate My Donut
material used: patterned papers - BasicGrey Nook & Pantry; rub ons - Studio K; brad - Nikki Sivils; and Crate; buttons - unknown
I made the doughnut and I just love it!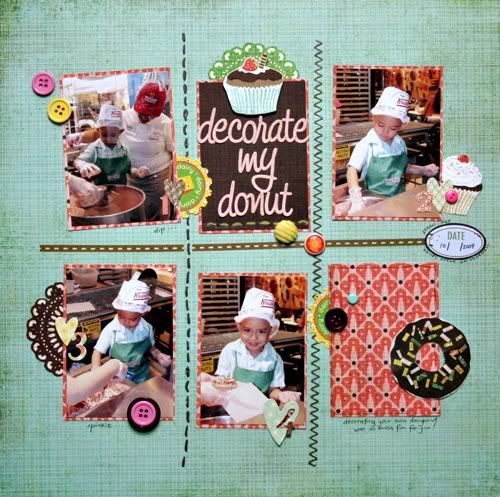 Now, on with my story ...

Day 4 of December, we were so happy to be receiving guests in our home. Afternoon of that day, my parents came to visit us. It was my mom's first time to see our house although she already saw Ohana when we haven't moved yet. My parents brought Macaroni Soup for their favorite apo as well as candies and gelatin!
By evening, we were visited by no less than Master Iris together with her hubby, Bryan and her daughter, Nicole. My pretty and generous kumare even brought with her a box of pizza and noodles! The rest of the evening was spent chatting not about scrapbooking huh (it came out as a surprise hehehe) but about Bryan's auto detailing business.

Thanks sis for dropping by!
We love that we were surrounded by family and friends that day!

Day 5 of December was our much awaited reunion and Christmas party of my college friends. Back in college, I was a member of a religious and socio-civic group called Pax Romana. We call ourselves, Paxies. Even though the members came from different colleges, we have become very close and have kept our friendship through the years.
The night was filled with games for the kids and adults! Our ears were about to burst because of the laughter, singing, shouting and playing of our kids! It was chaotic but fun! Ethan was raving about this party!
The highlight of the evening was the marshmallow game for the adults. A player must put marshmallows inside his/her mouth (one at a time), then he/she must say a word/s (the word would be picked from a glass or a bowl), the word/s must be guessed by his/her team members. If the members can't guess the word, the other team has a chance to steal. The boys was the first to do this and were only able to guess 2 words from the team representative. So the girls had to outdo the boys by guessing atleast 3 (or more). I was the first rep from my team and luckily was able to swallow (but we were not allowed to chew or eat) 5 marshmallows while my team mates guess the words I was saying. It was really hilarious because even after me, the boys were able to guess 6 words! The girls outdid the boys again but after that their team rep was able to swallow 10 marshmallows and was still able to talk! Grabe we couldn't figure out how that happened! I had a tummy ache because of too much laughing!
The kids also sang some Christmas carols. We had an exchange gift and lots of group picture taking. Hope to post the pictures here soon. I'm still waiting for our friend to share the pics in facebook : )
{Countdown: 18 days before Christmas}