It's day 3 of December! Ethan was up by 6am! That's really surprising because we are not morning persons at home. The last time Ethan was up very very early (as early as 5am) was during his 6th birthday! I guess when he is too excited about something, he's very conscious to wake himself up.
When I woke up, he told me to hurry because as what he said, "the poor kids are coming to school today!" I wonder what they were told in school that made Ethan so eager to leave the house Anyway, we dressed him up again for the Literary presentation. They are going to showcase their play.
In school, the program started with a medley of Christmas songs sang by Rosemont kids. After that, it was the turn of the kids from Sacred Heart School (outreach kids) to present a number. Some of the students danced the Tinikling! They were really good! After that they also sang a medley of Tagalog Christmas songs. That number was followed by another dance number, this time from the Korean students of Rosemont. We love watching this dance that gives us a glimpse of Korean culture.
Can you spot my white bunny? The kids were singing a medley of Christmas songs.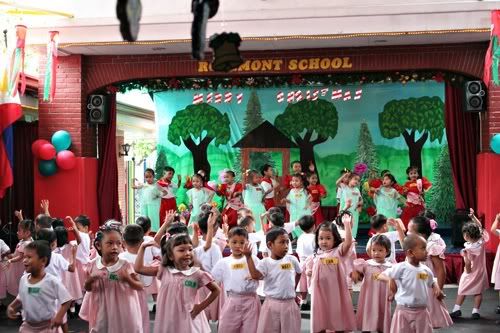 One of the highlights of the afternoon event was the repeat of the Literary Play by the SK students. Ethan did a better job today than their previous performance last Friday. His voice was louder, the words are clearer, and he would smile while dancing.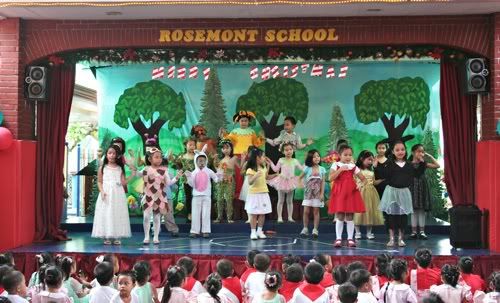 I think another exciting part of the program was the appearance of Jollibee! This one was so funny because Jollibee's toque fell from his head a few times while dancing hehehe.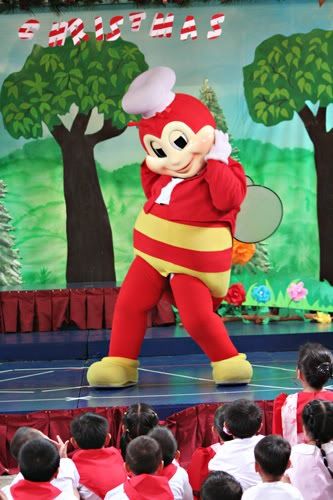 The Rosemont and Sacred Heart kids were able to interact inside the respective classrooms. They exchanged gifts (rosaries from Rosemont and bracelets from Sacred Heart). The lootbags were also distributed before the kids left.
I wasn't able to get many pictures inside the classroom. Most of the time, the camera will just hung : (
The kids played a guessing game. Those who answered got a prize money!
Tonight, Ethan told me his good deed. He said that he approached one of the kids from Sacred Heart. He asked his name; it was Nonol. Though they only exchanged a few words because of lack of time, I'm glad that Ethan initiated to make friends. I just wish there were games and more time for the kids to interact.
{Countdown: 22 days before Christmas}
-Pia