I feel so good to be finally back to blogging! For not blogging for more than a month, it took me several minutes to finally remember my password. Can you imagine my fear?! Every time I try to recover my password, I can't tell why I always end up doing the same process and not being able to access it. I was left without a choice but to rack my brain. Until I remembered hehehe.
Well, anyway, I have so many good news to share with you after a month of hiatus! This is going to be a very looong post ...
First things first ... we've moved to our very own home!!! After going through some crises this year, we were able to get a place of our own. Our very supportive parents have helped us finance the downpayment for this beautiful place we found somewhere in the south. We love the proximity of our new home to Ethan's school - atleast he doesn't have to be stressed out traveling. We are still facing a lot of difficulties right now but God has always been good to our family, I believe that all of these things shall pass.
I hope to share some pictures of our home but it looks quite empty right now : ) Since we have moved, we have not bought the "other essential" things our house needs but as what I have mentioned, we know that God will provide us with what we need. We just have to be patient. As for now, we are more than thankful for all the blessings that He has given our family.
Anyway, I was able to capture a photo of the building where our unit is located from this
site
. I'm sharing it here.
Next, Ethan celebrated his 6th birthday with an "Under Construction" theme at Jollibee last October 22! Again, thanks for my in laws for making this birthday party possible! Ethan was the one who chose the theme (as always). We invited only few of his classmates.
Most of the party decors are DIY stuff - invites, lootbags, table centerpieces and gift tags. An old friend of mine and a classmate from high school was the one who made Ethan's birthday cake. Her name is Chef Lulu of Foodsense. We love how the cake turned out. I just bought cheap plastic construction toys from SM and used them as cake toppers. All the other cake decors were created by hand by Chef Lulu.
I was lucky to find these plastic lootbags from Gourdo's. The theme is not Bob the Builder though it's still has something to do with construction hehehe : ) The bags are on sale when I bought it.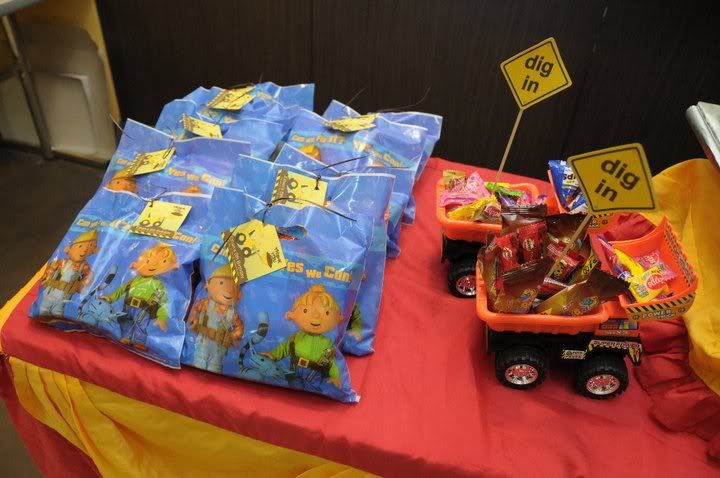 Ethan still raves about his party days after. As what I have said before, we like small parties since they are easier to manage and Ethan gets to pick only his closest friends.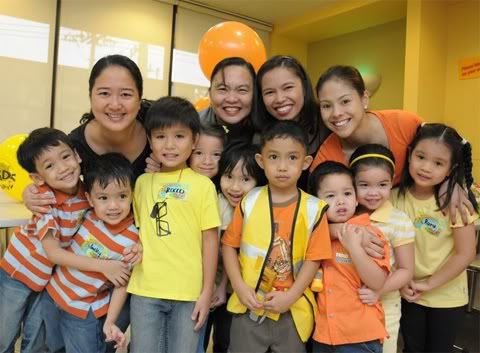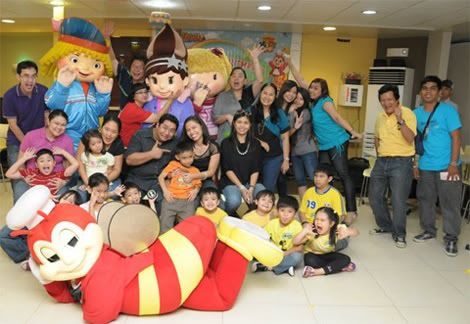 A week after this party, my parents threw another party for their first apo! Ethan is such a lucky boy! This time we had a Halloween birthday party since it was spent a day before Halloween. I just bought a small round cake and place some Halloween candies as toppers. I bought some Halloween plastic lootbags and filled it up with candies. We asked the guests (only a few of our family and friends) to come in their costumes! I'm trying to figure out where I downloaded the pictures so for now, I can't share it yet.
Before the sembreak, Rosemont had their annual "Children's Day". Ethan was a robot that day! We let him use his robot costume again
para sulit
! We were asked to make Ethan's lootbag so I used an old paper bag and used up my paper scraps to make a "robot". I used old batteries, screw brads, googly eyes and a bookplate to make the face of the robot.
The next day is another treat for this little boy. We had our annual trick or treat in AAV. Ethan was a Knight in Shining Armor. It was supposed to be a day to go around the village for some treats but we ended up with a playdate instead!
I have some layouts which I made weeks ago but until now it's either I do not have journaling for the layout or I haven't taken a picture of it yet. Unfortunately, I couldn't use our SLR as often as I would like to. Since last month, it has been showing up the "error 99" on its' screen : ( Owning a new camera is not our priority nowadays though since we have so many things in our plate. Sigh! Here's hoping for a new SLR come next year.
Till my next update. Thanks for dropping by!
{Countdown: 25 days before Christmas}
-Pia
11.30.10