Here's Ethan trying his hands (and feet!) on one of the new attractions of Manila Zoo - wall climbing! These photos were taken last March when Ethan was brought by his grandparents at the zoo. I remember going to the zoo when we were kids to see animals but now times have changed and the zoo is not just a place to see animals but a place for adventure too for our little ones.
My mom texted me that Ethan was the one who persisted to try wall climbing. I must admit this kid is really gutsy. But maybe when he was already about climb, he felt butterflies in his tummy that he told my mom that he can't do it. Hehehe, so long guts! But wait, maybe he also thought he'd be a loser to quit that easily so he tried again. And guess what? He managed to go up not just once but several times too!
Take a look at this layout about his adventure. I only wish I was there when he did this the first time.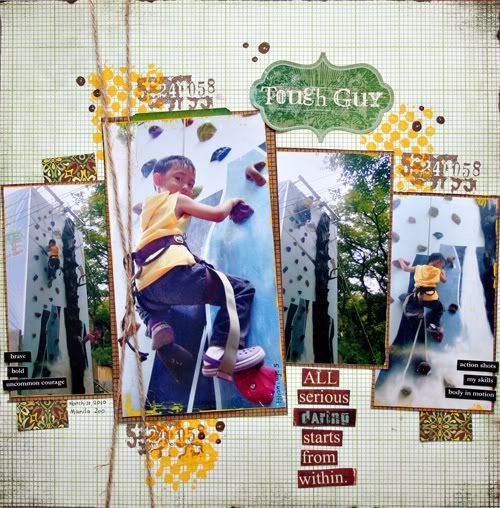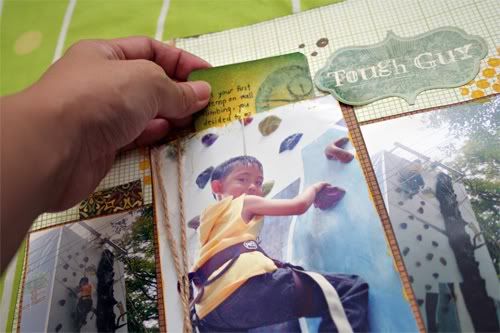 For a lengthy journaling, I decided to use the tag I made during my Scrapjam class last year (?)
The focal photo was originally 5"x7". It was a souvenir photo taken by the zoo photographer. Even though it was quite big for the page, I wanted to use it. It'll be a waste not to (despite of the poor quality). I printed some supporting photos that my dad were able to capture using his cellphone camera. I managed to pick atleast 3 best shots and squeezed them all together with the 5x7 picture in one layout.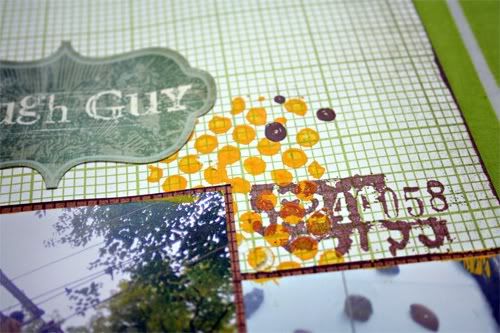 It may look complicated at first but it's actually not. I made my life easier by only picking two patterned papers from BasicGrey Origins (the background and the brown matting). I already brought out all the embellishments that "I might use" - metal, raffia, buttons, rub ons, stickers, ink and paint that compliment the colors of my photos. I was able to use most of my stuff that have been buried for some time now hehehe.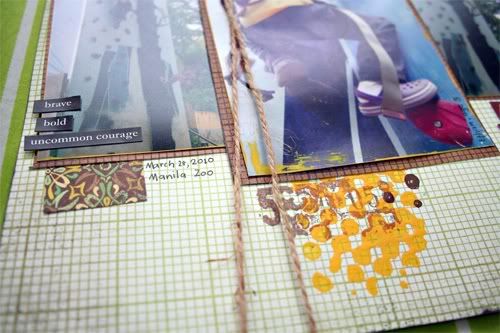 title: Tough Guy
materials used: BasicGrey and Fancy Pants pps, Fancy Pants sticker, Making Memories paint, Tim Holtz stamp, Versamark stamp ink, Daisy Bucket rub ons, Uniball pen

Layouts made:

Project 52: 29 layouts (including two spread LOs)
My Parent's Album: 4 LOs
Commissioned Work/Client: 8 LOs



-Pia