I recently had the chance to make layouts using
Cosmo Cricket
Earth Love
and
The Boyfriend
. These two are my recent favorites from Cosmo. I love the hues of these lines - brown, green, red, yellow and a little of blue. The colors are perfect for boy layouts. Thanks to my friend Arlene for sharing her stuff with me.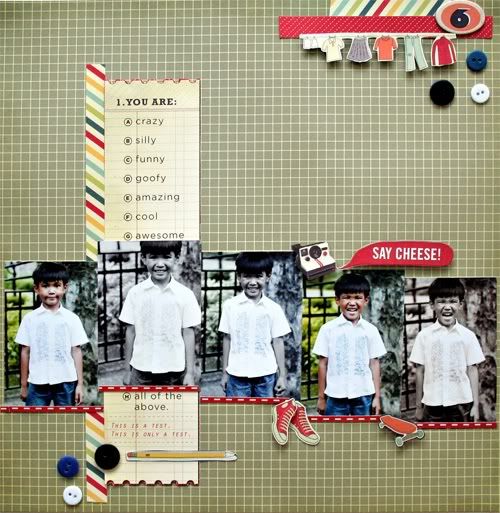 What I love about this layout:
- the mixture of sepia, black and white and color photos in one layout;
- the
Borders
pp (the patterned paper with multiple choice) - it fits the pictures perfectly;
- the series of photos and Joaqui's different faces;
- the simplicity of the background paper and the minimal use of embellishments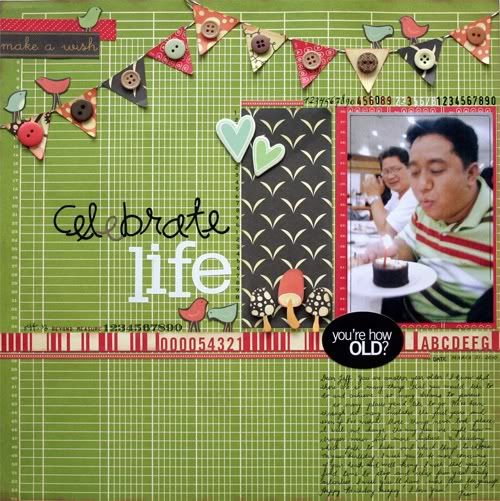 What I love about this layout:

- the handwritten letter I wrote for Jeff's birthday - it was an intention to write in cursive too, it has been awhile since I last did that;
- the mini flags/banners I cut each piece, inked, curled and top with buttons;
- the hues of the papers - brown, peach and green - very earthly indeed!
- the unusual combination of red and green for a birthday layout
- I used one patterned paper from Material Girl (the base pp) and the rest from Earth Love and The Boyfriend. I love the result of the combination of the three lines.

If there's one thing I regret about this layout is that the only photo I had of Jeff when he was blowing the candle was the one I took using a cell phone camera. But since it's the memory that truly matters, I think I'll give in to that blurred picture.

-Pia