Spending Good Friday and Black Saturday at home facing loads of paper works for the annual ITR, financial documents and quarterly tax for the 1st quarter of this year was worst
as I expected
. Truly, I felt I was having my
"penitensya"
racking my brain to understand these documents since I don't have any background on these things! Makes me think that when I'm already rich and can afford office staff, I will make sure I will hire a book keeper to do all these stuff for me hehehe.
On the otherhand, our Maundy Thursday was spent doing
Visita Iglesia
. Visita Iglesia, a Catholic tradition which means
church visit
has been a tradition of our family since I was pregnant with Ethan. Coming all the way from Cavite, we decided to start our visit at the Shrine of Jesus, The Way, The Truth and The Life (church near Mall of Asia). This was followed by St. Joseph Parish, Sta. Monica, Immaculate Conception Parish, Espiritu Santo, Santisimo Rosario Parish (UST). We had a detour and decided to skip Minor Basilica of St. Lorenzo Ruiz (Binondo), Sto. Niño de Tondo, Sta. Cruz, Basilica of Nazarene (Quiapo), and Our Lady of Remedies (Malate Church) because of heavy traffic and difficulty in parking. We ended our visit at
San Agustin
and
Minor Basilica of the Immaculate Conception (Manila Cathedral)
. We noticed that this year, more Filipinos joined in this Catholic tradition as compared from the previous years. At almost 11pm, traffic and parking was still a problem at the Manila Cathedral. Hmmm ... must be signs of the times?
I've always wanted to document our visits and was glad to have finally done that this Lent. Here are some of the pictures Jeff, I and Ethan took.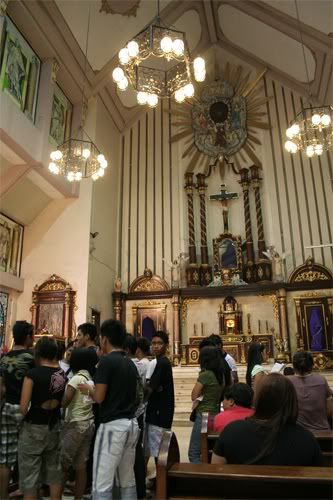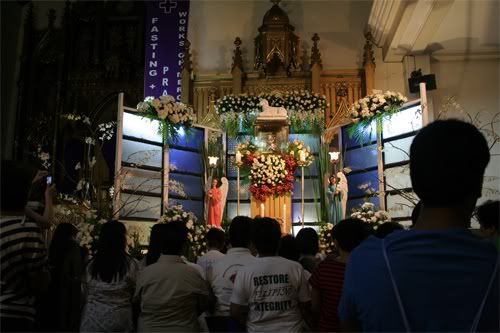 Immaculate Conception Church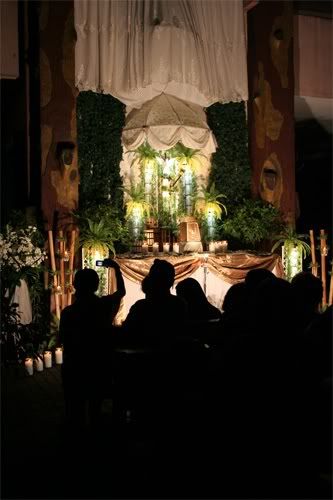 Espiritu Santo Parish
It was an enriching experience again this year and I hope to preserve this family tradition even if Ethan is already a grown up.
I could have wanted to make atleast one layout for Easter but I was too tired and sleepy already that I took that day to rest. Anyway, I'm going to share a layout I made several weeks ago. The photo was taken right after Easter Egg Hunt last year.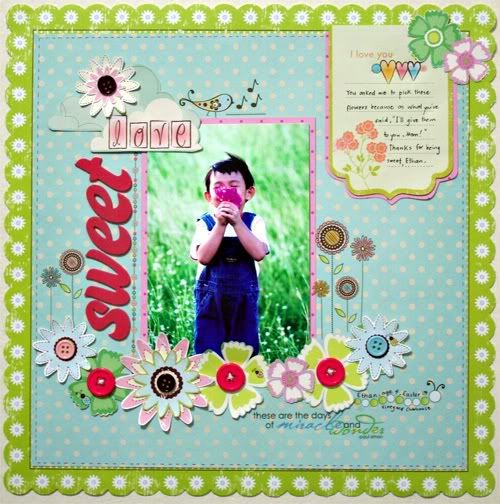 materials used: Making Memories, Scenic Route and October Afternoon (cloud) pps, Daisy Bucket rub ons, American Crafts Thickers, buttons, Zig and Sakura pens, DMC embroidery floss

Come Easter Sunday, I went back to my mom's house to fetch Ethan. Ethan had spent two days of vacation at his lolo and lola's house. We were quite late for an outdoor egg hunt so we decided to do it indoor.

-Pia