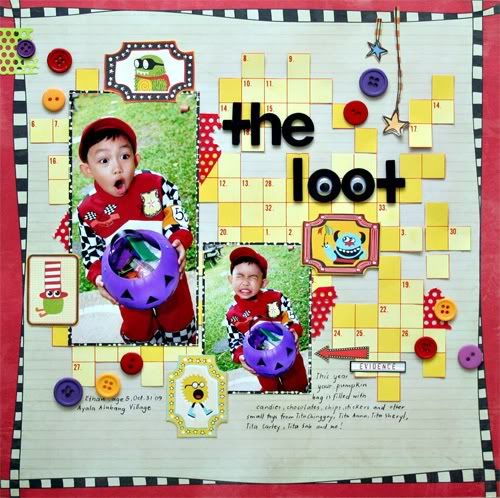 materials used: Fancy Pants Rough and Tough, Sassafras Lass - Vintage Yummy and Monstrosity, 7 Gypsies word stickers, mesh, buttons, googly eyes, Zig pen
I used non-Halloween themed papers for this layout. I noticed that the base paper matches the racer costume of Ethan.

Since the puzzle paper (Sassafras Lass - Pleasantly Puzzled) looks busy, my friend, Iris suggested that I cut the paper. Actually, I don't know what she meant exactly but I proceeded to cutting, anyway. After cutting a few pieces later, I randomly positioned the paper on my base paper and what do you know ... I love how it turned out! Thanks too to Iris for the mesh. Scrapping side by side with the Master has always been an experience ... Iris can always come up with so many ideas running in her mind!
An update on my Project 52, I already created 14 layouts todate! Project 52, I believe is the best option for me to finish 52 layouts - something that is realistic and fits our lifestyle.