I bet we all have those not-so-good-photos. I guess they are not so good in a sense that they are not technically good. Probably blurred, dark or too bright or poorly composed. For photography enthusiasts like me, I feel bad whenever a very memorable photo turns out a not-so-good one. I have so many of those, most were taken using my celfone camera which gives my photos poor quality. But because these photos have a meaningful memories, I wanted to scrap them.
I had photos from my celfone printed, without any photoshop manipulation or whatsoever. I realized these everyday photos of mine are true reflections of our lives - no photoshop needed and are good as they are : )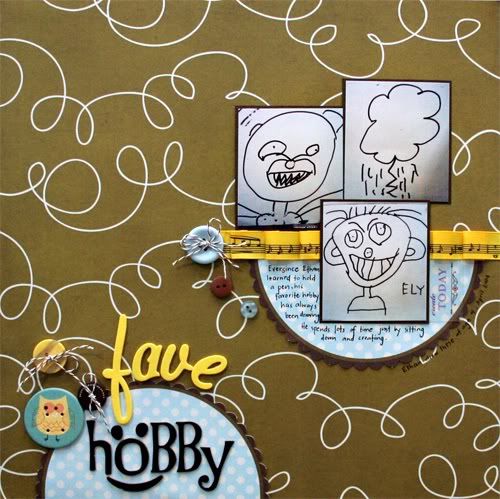 These photos are drawings of my son. I still have a handful of photos from my celfone showing his creations and I'd definitely scrap them soon!
These photos were taken inside the car and the morning of Valentine's Day. I love that these pictures were able to capture how Ethan looks after he wakes up! : D
I used
Lily Bee
papers for this project which are available (locally) at
Lasting Impression
.
The past weekend was a productive one for me. I made three layouts and "recycled" another one. The story behind that one on my next post ; )
Title: Fave Hobby
materials used:
Lily Bee Three Little Birds -
Double Dutch
,
Die Cut frame
, Bazzill cardstock, buttons, Shabby Green Door baker's twine, American Crafts Thickers, Zig pen, Chatterbox chipboard, and Prima ribbon
Title: Donut Love
materials used: Lily Bee Three Little Birds -
Faded Jeans
,
Three Little Birds
,
Die Cut Frame
,
Rub ons
, buttons, Shabby Green Door baker's twine, American Crafts Thickers and cardstock, Fancy Pants pins, Sakura, Uniball Signo and Zig pens
-Pia