Helllo there! I'm back after almost a month of not posting. I'm sorry for that. There have been so many things that took place this month.
We went to Boaracy for our annual summer vacation together with my inlaws. We are truly blessed that we are able to enjoy the beach every summer! Thanks to my generous inlaws for that. This summer vacation must be the most memorable to date because it was the most adventurous of all our vacations making Ethan sooooo happy and wouldn't want to go back home. I've shared some pictures in my facebook account already. You may want to check them. They're
here
,
here
,
here
and
here
: )
Last Sunday, June 20, we celebrated Father's Day in Tagaytay. We heard mass first then we had dinner at Antonio's Grill. We weren't truly satisfied with the food we have ordered and we felt we should have eaten at good old Leslie's or Pancake House instead. Anyway, we headed towards Starbucks for some dessert and frappucino after our dinner. It was just a simple celebration. I made layouts for Jeff too to honor him on his special day, which I will post soon.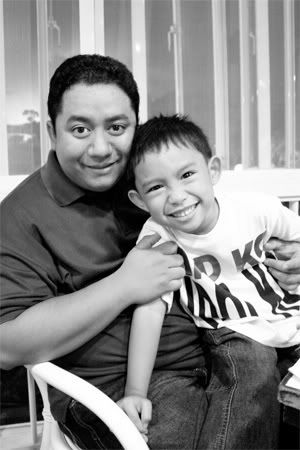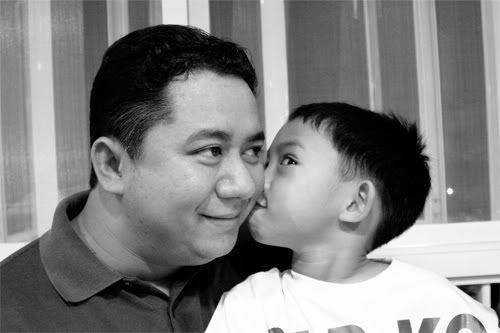 Jeff may have flaws. He may not know where Ethan's clothes are even though they have been in the same cabinet for almost 6 years; he may have not breastfed his son (of course hehehe) and he may be quite grumpy at times but I will be forever grateful to God for giving Ethan the best dad there could ever be ...
On June 22, Tuesday, it was Ethan's first day in Senior Kinder. This is his last schoolyear in Rosemont. I can't believe it has been 3 years already since my baby first went to school. I remember being so afraid that we will not survive his first day in Nursery. Now, I see a more independent and confident Ethan. I know that my son (not because he is my son ha) will go places when he grows up.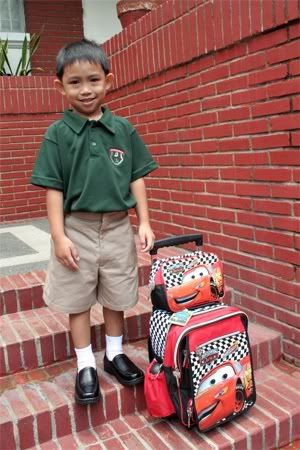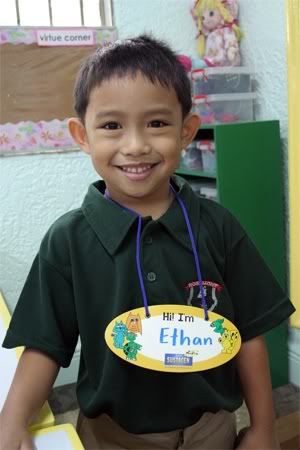 On a scrappy note, I meant scrapbook related, I finished 4 layouts for this month! Wohoo for me! Although I think I still need some catching up to do with all my backlogs. Anyway, I also finished one layout for my mom and dad's album and 5 layouts for a client. I feel good but quite guilty that I'm far behind business work this time. I need to work some more ...
Hope you'll check back again for my layouts! Thanks!