Here are the two layouts I made for Jeff for Father's Day.
The photos were taken during our one day stay in Tagaytay. We made the most of it by swimming in the pool as soon as we checked in our hotel. After an hour, we left the hotel and went to Tagaytay Picnic Grove for the much awaited kite flying that Jeff promised Ethan. For the most of our stay, I was the photographer taking as many pictures of my boys. Though I wish I'm good as Jeff.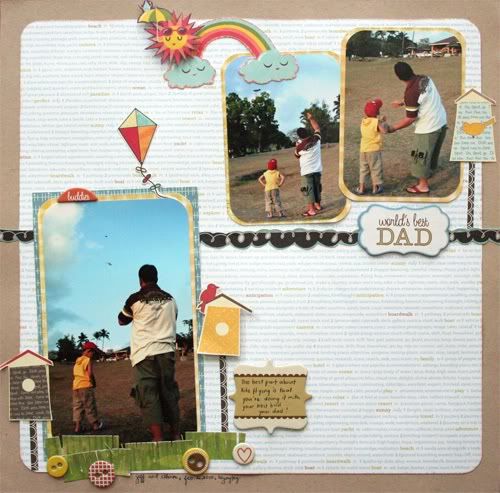 I'm so glad I bought these papers from Bella Boulevard. Thanks to April too for showing me these adorable chipboard. She's right about the chipboard - they're cute and easy to use. Aside from Bella Boulevard, I also used the kite from Fancy Pants - I'm glad I saved it from my previous use. The border, rainbow, sun and the yellow mat are from Prima while the green grass is from Cosmo Cricket. By the way, these papers are available locally at
Lasting Impression
.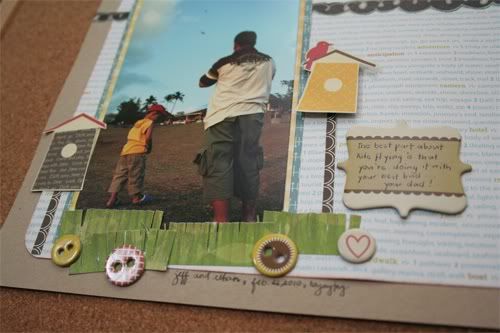 title:
World's Best Dad
materials used:
Bella Boulevard, Prima, Cosmo Cricket and Fancy Pants papers, Bella Boulevard chipboard, Uniball pen, Bazzill kraft cardstock
For my next layout, I layered stamps, mists and rub ons for the background. I love that I get to use my Daisy Bucket kite rub on that I've had for quite some time already.
I have rediscovered misting again and I can't get enough of it! My next three layouts all have mists in their backgrounds : )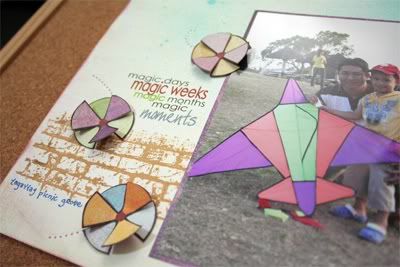 I kept this layout simple by using only few pieces of patterned papers from BasicGrey Kioshi. I love the subtle colors of this line ... it gives a serene and calm feeling perfect for this fun day of my boys. These colors are not my usual palette but it was worth the try!
By the way, BasicGrey Kioshi is available locally at
My Little Attic
. I'm glad that I was the first who got these papers because when I visited Nette, the BG papers have just arrived! Weee!!!
materials used: BasicGrey Kioshi and Bella Boulevard (bird house) patterned papers, Daisy Bucket rub ons, Tattered Angels Mist, Tim Holtz stamp, Clearsnap chalk ink and Versamark stamp ink, Zig pen

Yesterday, I had to organize my patterned papers again. I have thrown some scraps and decided to part ways to my old stash - some weren't even touched and some are scraps but will come a long way if I just give it to other people who will be able to use it rather than letting it gather dust in my rack. I 'm so happy when I saw that I have few papers again! I'm using more scraps now than ever now ... another way to lessen my papers.

Thanks for dropping by my blog again! More projects using mists in the coming days!

-Pia