Here are two recent layouts I made for Ethan.
The first one is a photo taken when Ethan was 3 months old. I still have lots of baby photos that needed to be scrapped before Ethan finally turns 7 next year, huh! Anyway, since the photo is quite old, I had a hard time recalling how my son was when he was still a baby. Good thing, I have a diary that I 've kept with me through these years. I found a journal entry the same month the photo was taken so I took an excerpt from the said entry. One of my mistakes in scrapping is that it took me a looong time to finally scrap Ethan's baby photos. Back then, I was afraid I wouldn't be do good in scrapping those precious moments because I have only started scrapbooking. I realized I was wrong about that. Now, I am trying so hard to scrap both his old and new photos before most of the memories slip my mind. It also helps to keep writing on this blog for future references.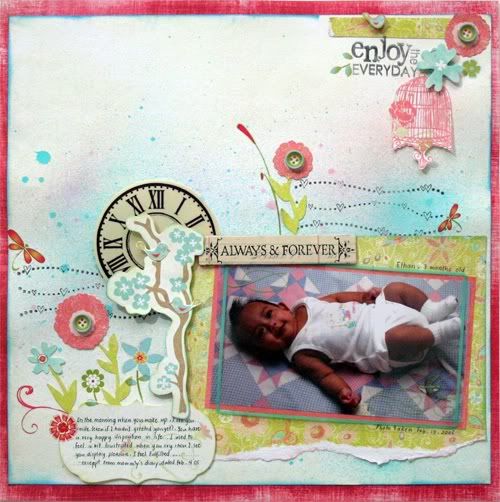 The embellishments of this layout are layers of mists, stamps, rub ons and die cuts. I'm trying a different approach here by using colors that I don't usually use. I'm also putting out most of my stamps so I get to use them in my layouts. Sometimes, I succeed and feel good about the results of my experiments. Sometimes, I would realize I would never do it again hehehe. In this layout, I liked the idea of layering the stamps, rub ons and mists but I'm not so sure about the mix of colors.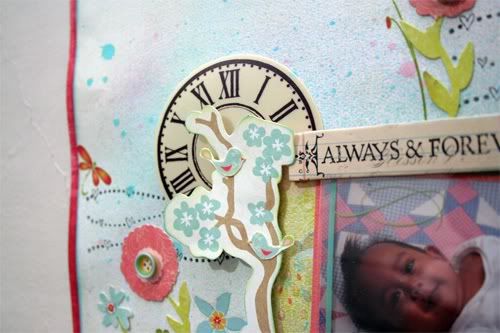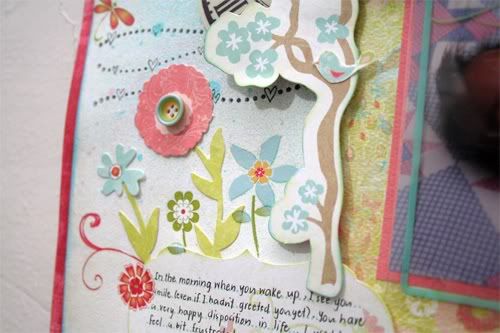 title: Enjoy the Everyday
materials used: Crate, BasicGrey (birdcage) and Fancy Pants (fuschia pink and base) pps, Daisy Bucket stamps and rub ons, 7 Gypsies clock and chipboard sticker, WRMK transparency frame, Tattered Angels mists, Uniball pen, Versamark ink stamp, buttons
My 2nd layout is my latest favorite among my works! I love this photo of Ethan taken last March of this year. The socks he was wearing are actually mine. I use that at night when I feel too cold. And though they are mine, Ethan loves to borrow them, perhaps because of the colors and the way it fits even to his toes. Jeff and I were laughing at Ethan when he feel asleep - his feet on top of a pillow and his arms folded at the back. He's so cute!!!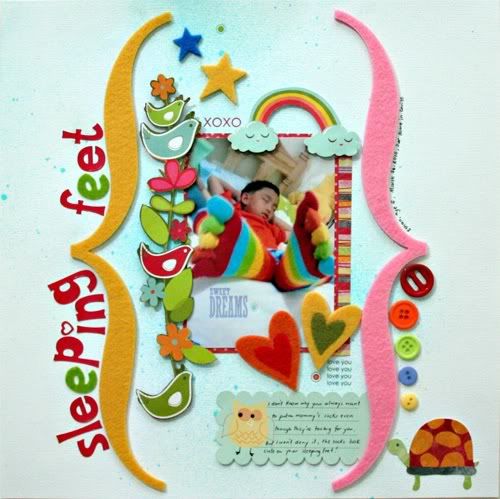 Do you still have lots of those felt shapes like I do? Bring them all out and start using them hehehe!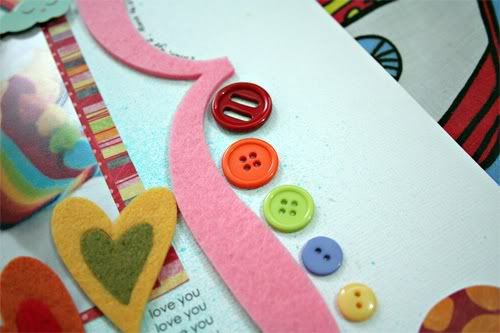 Ethan suggested I place the birds at the side. Daddy doesn't agree though! : )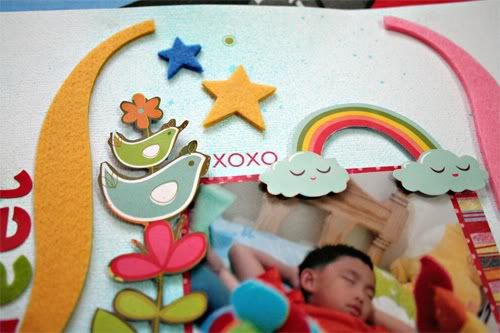 title: Sleeping Feet
materials used: Prima, BasicGrey, K and Co. pps, Bazzill cs, Tattered Angels mist, Fancy Pants felt shapes, Daisy Bucket rub ons, buttons, Chatterbox journaling card, Jillibean Soup alphas, American Crafts Thickers, Uniball pen

Thanks for coming back to check out my layouts!


-Pia