It's probably time to get the umbrella, raincoats and rainboots out! For the past days, it has been raining real hard. It's not that it's weird since we're approaching June in a matter of days. It's just that it's still too hot before and after it rains. Not to mention we haven't been on a real vacation yet.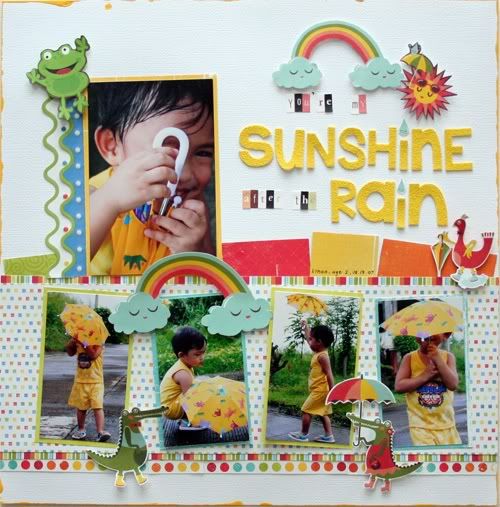 Anyway, since it has been raining. Here's a layout I made using Prima-Umbrella Collection.I love the bright colors of this line. I also love those cute crocodiles too.
Aside from Prima, I also used scraps from different lines having the same hues. There's just too much colors on this layout - I totally enjoyed the creative process. Perhaps my current favorite color would be yellow. But I also noticed I've used too much of that color on my recent works. Hmmm....maybe I should give that color a rest for awhile.
Please allow me to indulge. Even though this are just very small accomplishments for the year, it means a lot to me already. An update on my Project 52: I finished 22 layouts already, one of which won at the
Fancy Pants NSD Challenge
and three are going to get published! Wohoooo!
Now for some, non-scrapbook related.
Ethan will soon be in Senior Kinder, his last schoolyear at Rosemont as a preschooler. As of this time, he's already enrolled, his uniforms, shoes and school supplies are already prepared. I just want to enjoy the rest of the vacation thus I prepared early. The little boy has been enjoying his vacation - full time. When I say 'full time', I meant no-summer-workshop for him. I never get to mention on my posts that my-little-actor went to Trumpets Playshop from April to 2nd week of May. The workshop concluded in a showcase entitled, "The Best Toys". I'm a proud mom when Ethan performed on stage for the first time. Indeed, at a young age of 5, he has experienced something his dad and I experienced when we were already in college. Anyway, we hope that his love for the theater will continue until he's a grown up.
We're off to the beach next week. Last hurrah? Yup, we'll just pray it won't rain. Oh sunshine ... I need you now!