Our Valentine's Day was pretty simple. We were at home the whole day watching Tagalog movies (mostly KC and Richard's ones, yup certified
jologs ako!
) while Jeff took a rest he badly needed. In the evening, we had dinner at Golden Bay Restaurant along Macapagal Boulevard. I knew we had to have Chinese food because incidentally this year's Valentine falls on a Chinese New Year as well hehehe. Connection?
Wala naman masyado
. We've been eyeing that resto for quite some time now and since traffic was so heavy along Macapagal Blvd. due to MOA's firework display, we simply thought it'll be better to take a turn to the nearest resto which happened to be Golden Bay.
We capped off the night with another dinner with my inlaws at Burgoo, MOA hehehe. We were so full, we hardly ate anything. But it was a fun night chatting with my inlaws. I also got three red roses from my SIL, Angel.
Hay buti pa siya naalala ako : D
Ethan made greeting cards for all of us too. One, he did at school. Six others, he made at home with me. Ethan gave one to his lolo and lola (my parents). He also made two for his teachers and one for his mentor. Unfortunately I wasn't able to take photos of those before we gave them. Not that I'm Ethan's mom but I'm so proud of him because he draws and colors very well. I plan to make a book of all his drawings because I believe they are exceptional for his age!
Here are the cards:
Ethan copied the drawing from this
old Fancy pants paper
. The card is for my inlaws.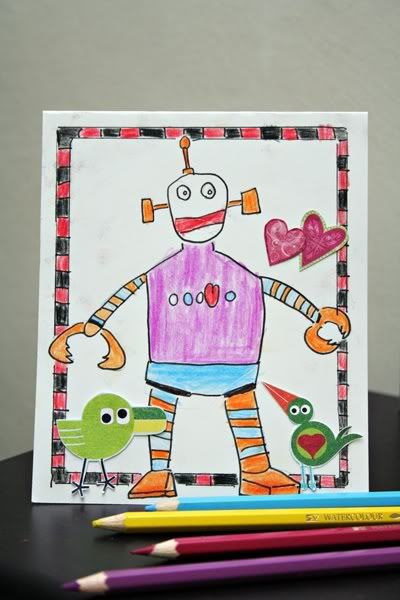 This one is made for Jeff. Ethan drew this using his stuff toy as an inspiration.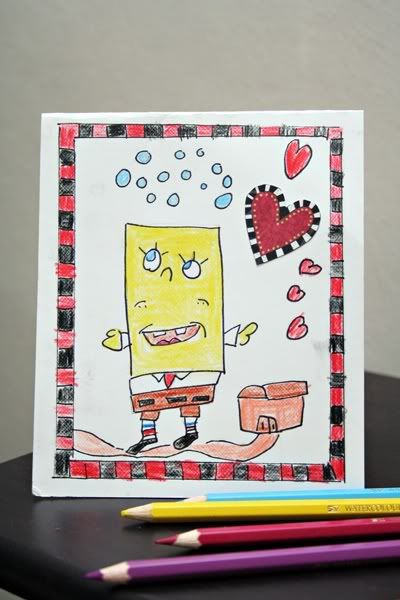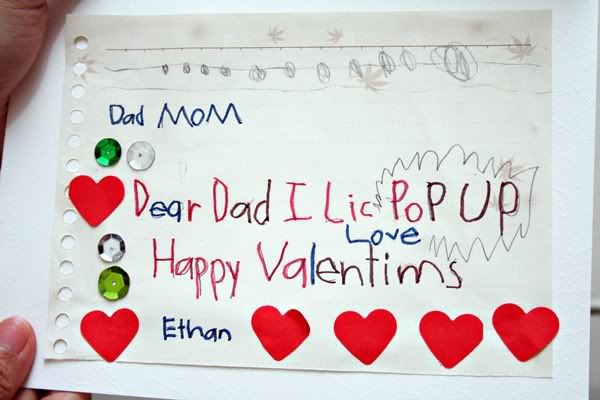 He was asking for a Matchbox Pop Up hehehe!
Lastly, I want to share with you (FINALLY!) my first layout for 2010. Wohooo!!! I can't tell you how happy I am when I finished this days ago!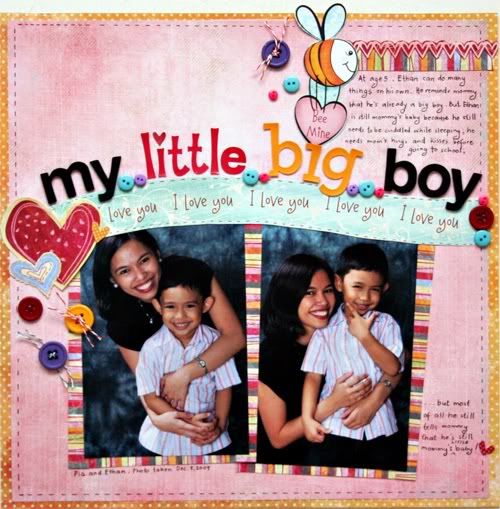 I combined two Valentine paper collections from Fancy Pants and BasicGrey (available at
Lasting Impression
).
Materials used: BasicGrey Sugar Rush -
Gummy Bears
,
Jaw Breakers
,
Rush Runts
, and
Element Stickers
; Fancy Pants Splendid;
Shabby Green Door baker's twill
;buttons; and Zig pen
Photography by Meng Lim
Happy Valentine's Day! Thanks and come back for more layouts from me!
-Pia