... of these adorable monsters. After using my Monstrosity papers from Lasting Impression, I couldn't resist making another one and mixing them with other paper lines too.
For this layout, I tried putting as much photos as I can to show how we celebrated
Ethan's 5th Out of This World Birthday Party
. I don't know if I did it right though. By the time, I positioned and glued all the photos and papers, I couldn't tell where to put my journaling. Perhaps next time I'll be more careful and plan first my journaling before I place all the other elements.
I love Ethan's smile in these pictures. It only shows how much he enjoyed his big day which we celebrated with only few of his friends and classmates.
This one is a monster overload. Can you recognize the paper lines to which these monsters are from? These adorable monsters are from October Afternoon, Sassafras Lass and Daisy Bucket!
The photos for this layout would look cluttered if printed in color so I thought that I needed to change them into BW. The photo's background is a little dull for these papers; Ethan and his friends' wore clothes that are unmatched too. I'm very OC with color and I'll try everything just to make everything color coordinated hehehe.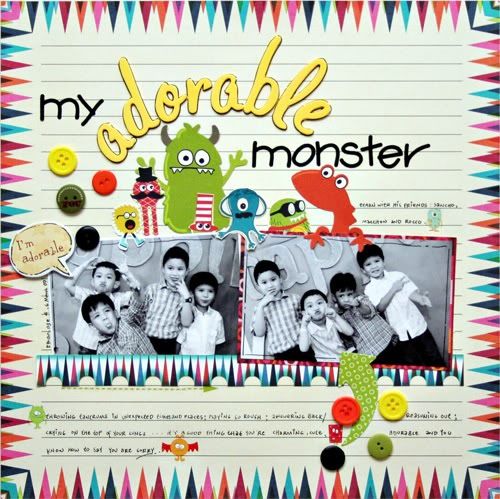 I'm happy to be sharing again my layouts. I hope to be productive this weekend and make atleast two layouts. Wish me luck!

-Pia