I'm back again! We have been through a lot of things this summer so blogging and scrapping, as always, need to take a backseat. My OB also advised me to rest because I am underweight - it must be because of the stress that keeps on building up each day.
I'm on my 28th week of pregnancy right now. It has been quite difficult because of the unbearable heat (it must be my worst summer). My two boys are both helping me out with the chores at home. Ethan would fix his bed, throw the garbage, set up the table, sometimes wash the dishes etc. while Jeff would do the laundry. We are making ourselves ready for the coming of our baby with or without a househelp.
Ethan finished 3 of his summer lessons - thank God for all of these despite having financial difficulties. We wanted a fruitful and enjoyable summer for Ethan so I really planned for his activities. I enrolled him in swimming lessons which only cost me P2,000 for 15 sessions (not bad at all); he swims in our community pool which is a walk from our unit and has saved us from gas. My little boy learned to swim fast only after a few sessions, in fact even faster than Jeff!
Ethan (the one in black rashguard)
We also enrolled him at the McDonald's Kiddie Crew which was only P500 for 5 days!
Second Day: Counter/Kitchen
We thought that was it when God has sent us an angel through Tita Arlene. She enrolled Ethan in Friday's Kids on Stripes! Ethan truly enjoyed this one, in fact, he was even awarded "Most Active" because he would always participate in all of the activities of their class.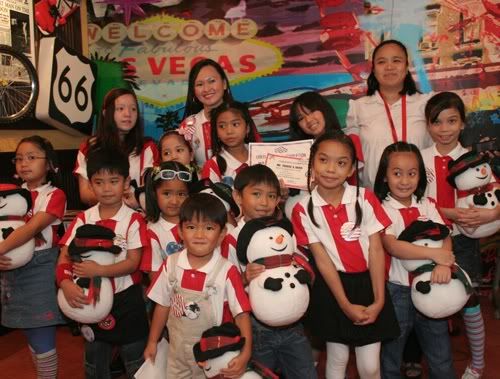 Kids On Stripes -ATC Branch, Batch 2 during their Recognition Day. Each kid received a certificate, an award and a cute Snowman!
Summer has been busy for Ethan. Our young entrepreneur also sold ice candies to our neighbors! And one of his greatest feat would be sleeping on his own in his own bedroom! We are really proud of our little "Kuya"!
On my 26th week, I had my ultrasound.
But I told my OB not to tell us the gender yet instead she must write it down in a card. I told her that we want to reveal the gender together with my family and friends. She loved the idea and she kept telling the other doctors and staff about our plan! I then sealed the envelope (nope, I didn't peek!) and even tied it with a pink and blue ribbon just to make sure nobody from us will dare open it hehehe.
We asked our friends to come in pink and blue shirts - depending on their guess (pink for a girl and blue for a boy).
I was surprised to see Jeff wore a blue shirt! Ethan was consistent - he said it'll be a baby girl!
My mom and our very kind neighbors.
My mom and our neighbors threw this simple get together for us. We feel blessed!
I can't even look at the result!

We are very thankful for our family and our new friends who were there with us to share the exciting news!
We feel happy that we are going to be blessed with a baby girl!
Here are some layouts I managed to make the past weeks.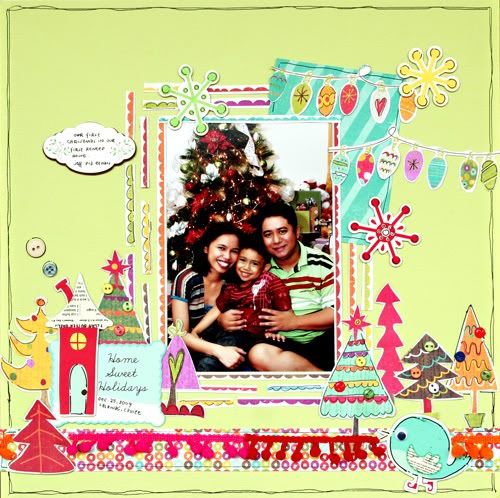 title: Home Sweet Holidays
title: 31
materials: Thanks
April
for the papers and embellishments! patterned papers - Prima, Fancy Pants, Teresa Collins; felt flowers - Queen and Co.; sticker - MYLB (thanks
Iris
!) ; brads - Nikki Sivils (thanks
Ria
!) others - pen
Thanks for dropping by!