This post is long overdue. This was my first project for a celebrity and how lucky I am that I did it for Ms. Kris Aquino!
My friend, Dedet who is the editor in chief of Working Mom Magazine (ABS CBN Publishing) recommended me to Sheila Quieta, who is the managing editor of K Mag. Since then we've already made 4 projects for the magazine and we are very thankful for this wonderful opportunity. Unfortunately, my second traditional scrapbook project for Kris was never published at the mag. This was during former President Cory Aquino's illness and Kris had to take a break from the magazine. I did Bimby's 2nd birthday album. My only regret was I never took pictures of my layouts before I gave it to Sheila because I was hoping to see my layouts published in the mag. Anyway, God is really good because before the year ends, another project of ours will be published in the said mag!
Here are the layouts I made for the Nov/Dec 2008 issue of K Mag. The layouts are originally 8" x 8" in size or 8" x 16" (spread). When I got a call from Sheila, I only had less than a week to do this project and to top it all the pictures are still not with them since Kris just recently came from Hongkong. I was just told that the vacation took place in HK Disneyland during the sembreak/Halloween. I assumed that the photos are Halloween themed. I looked through HK Disneyland's website to have an idea of how the park looks when it's dressed up for Halloween. I already made few layouts when I get to see the photos.
I went to ABS CBN Publishing office to choose the pictures for the scrapbook. I spent more than 3 hours going through the photos! I also brought my stuff so I can make some layouts.
My layouts were then photographed and the pictures were added digitally by their graphic artist thus I have no hand on the cropping of the photos. I never even get to see the finished layouts till I bought the magazine : ) But it was all worth the wait!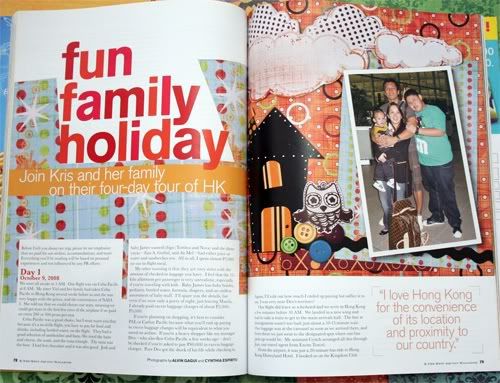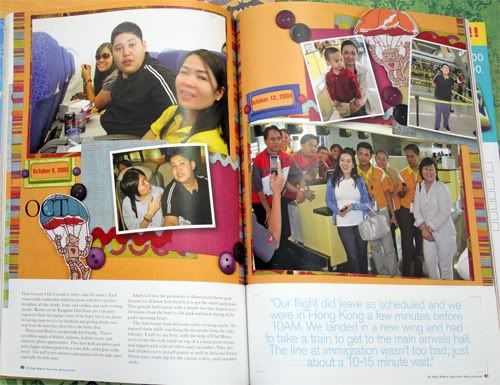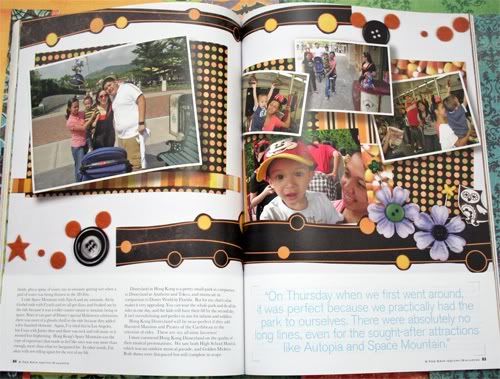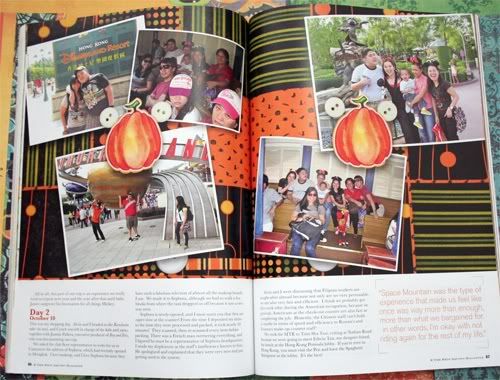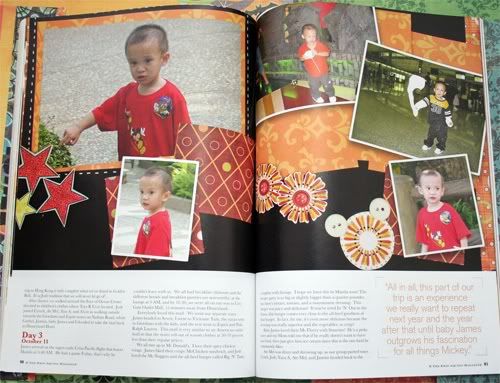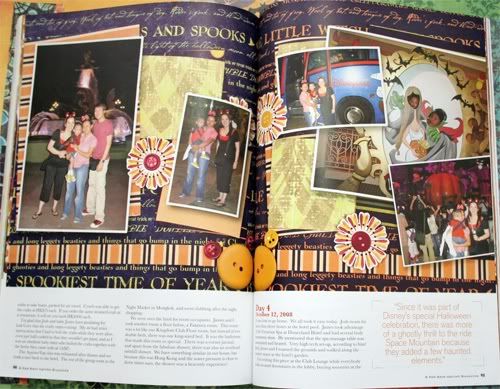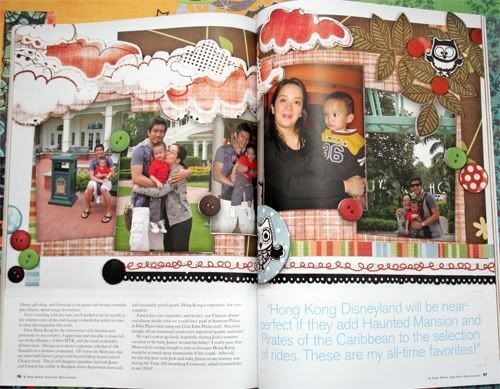 I believe that these aren't my best layouts. I was really pressured while I was creating these. I knew I had to let go when I'm working under pressure. Hopefully there would be lots of next time to do better ; )
{Countdown: 72 days before Christmas}
-Pia
10.14.10