It's the start of October already and I'm so excited to dress up Ethan for Halloween! I'm not so sure what costume he will like this year though - he's such a fickle minded guy.
Anyway, here's a Halloween layout I'd like to share with you . This is Ethan's first time to do Trick or Treat taken in 2008! He really had fun going around the village getting candies and meeting other Trick or Treaters!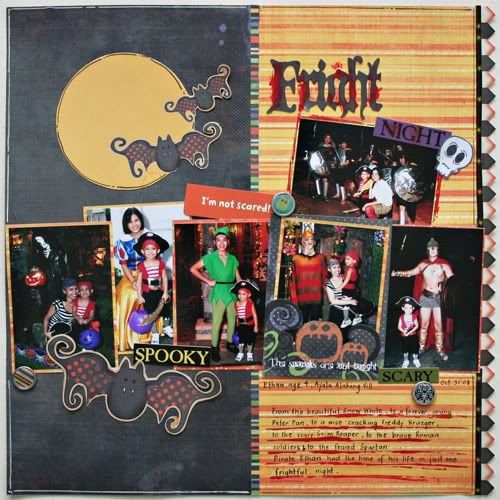 To make the journaling lines, I painted the edges of my plastic ruler with red. I then pressed the ruler on the paper to make the lines. The title (Fright) was accidentally pressed with red paint when I was putting borders around the top photo. I couldn't erase the paint so I decided to smudge/drop few paint on the title : )
title: Fright Night
patterned papers - Fancy Pants, Sassafras Lass and October Afternoon; die cut paper - My Little Yellow Bicycle; stickers - Cloud 9 Design and Prima; brads - Chatterbox; paint - Making Memories; pen - Uniball Signo and Zig
journaling:
From the beautiful Snow White, to a forever young Peter Pan, to a wise-cracking Freddy Kruger, to the scary Grim Reaper, to the brave Roman soldiers and to the feared Spartan soldier ... Pirate Ethan had the time of his life in just one frightful night.
{Countdown: 84 days before Christmas}
-Pia
10.01.10