I recently joined an online scrapbook contest at
My Scrapbook Nook
. I just want to make pages for this busy month and have fun. It has been awhile since I last joined something like this.
So far I have only finished two of the challenges. Here are my takes: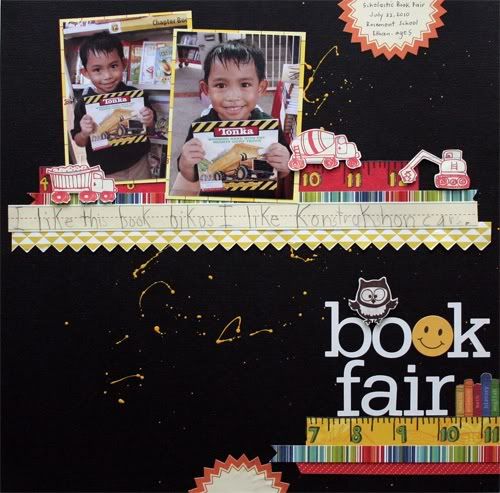 Graphic Design 101
: Our
assignment was to create a layout that clearly demonstrates at least one of the basics of design (focal point, visual triangle, asymmetry/symmetry etc.)
I used these design elements:

1. Having a clear focal point by using the rule of thirds.
2. Having contrast on my page by using black as a background and splatting yellow paint therefore making the elements on the page pop. I also embellished my title by using a smiley instead of the letter "o" and placing an owl on the top.
3. Creating flow on the layout by using the horizontal strips of papers which leads the eye of the viewers to the focal point.
4. Three elements create an illusion of a visual triangle - the journaling blocks, the pictures and the title at the bottom.
5. Having asymmetrical balance

materials used: cardstock - Bazzill; patterned papers - Scenic Route, Sassafras Lass, Cosmo Cricket, Junkitz; stickers - October Afternoon; paint - Making Memories; pen - Uniball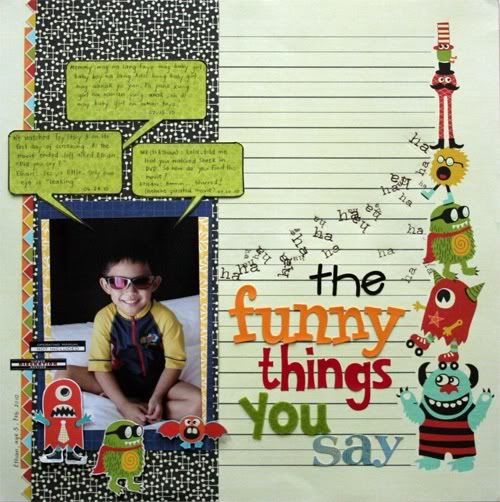 Typography 101:
Our assignment was to create a layout where the title/text is the focus of the page. We need to use at least three different fonts and two different colors of stickers on our page.
Since the topic of my layout is about the things my son says, I focused on fonts/letters. I used 4 fonts for my title. I also chose the colors that are basically present on my patterned papers. I added a dash of rub ons from Lily Bee across the page. For my journaling, I decided to use my own handwriting.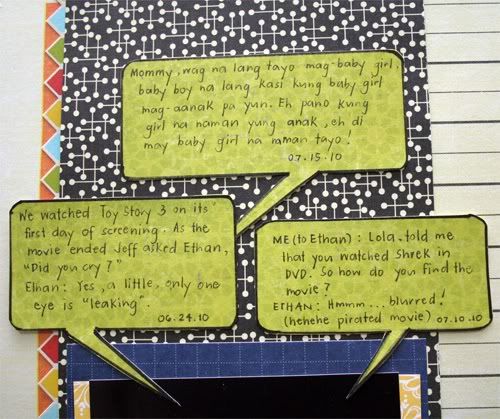 title: The Funny Things to Say
materials used: patterned papers - Sassafras Lass, Crate, Scenic Route, American Crafts; stickers - 7Gypsies; rub ons - Lily Bee; letters - American Crafts, Jillibean Soup, BasicGrey, Pink Paislee; pen - Uniball
I'm glad I can almost reach my 52 layout goal for this year even though it's only September!
Wish me luck to finish this contest till the end. I have no intentions to win, I just want to create as many layouts and have fun!
Countdown: {106 days before Christmas}
-Pia
09.10.10