Before I share with you may layout, I'd like to thank everyone who prayed for Ethan's recovery. We got the blood tests' results today and found out out that he is negative with dengue fever. Although it was found out that he is positive with typhoid fever, we are already thankful that it was nothing very serious. He has been given antibiotics since Saturday so the medication has already been taking effect since then. Our family is grateful for all our friends who left messages in my facebook account as well as those who sent their messages through texts.
Anyway, here's me and Ethan last year during the celebration of Mother's Day. Usually Mother's Day is celebrated every September coinciding Mama Mary's birthday in their school.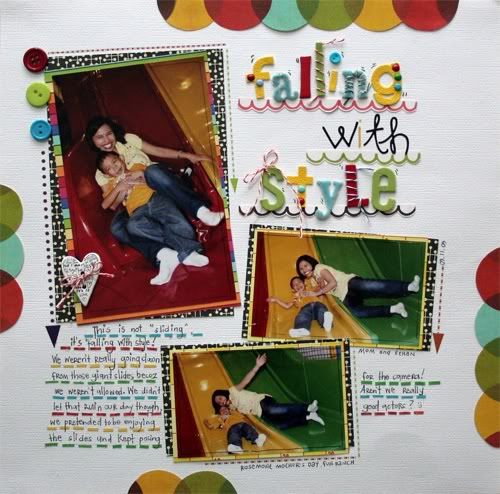 For the strips of paper, I used the small pieces of scraps that I have. Cutting and adhering the strips was quite time consuming though.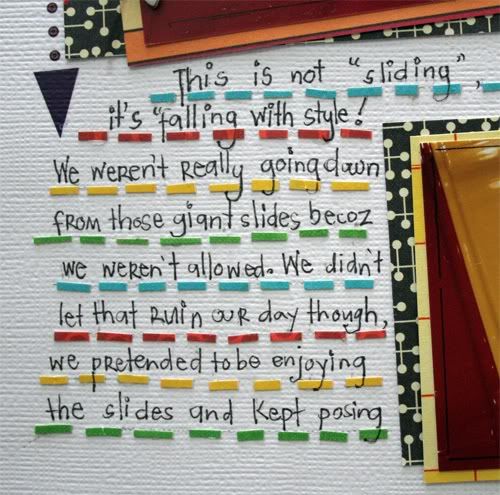 I made this layout weeks ago. I have not been scrapping because of the recent illness of Ethan and some things that we are busy with at the moment. I'm quite sad that I wasn't able to make more layouts for the Scrapbook Nook U Contest which is almost about to end : (
I'm really running low on supplies. I think I have used up almost all of my papers. Most of the ones that were left are scraps. I have very few old papers which I really want to use and get rid off! I'm glad that I have been scrapping again and using my stuff - atleast they aren't wasted!
materials used: cardstock - Bazzill; patterned papers - Sassfras Lass, Scenic Route, American Crafts; rub ons - Daisy Bucket; letters - American Crafts and Prima; brads - All About Scrapbooking; buttons - unknown; chipboard - Chatterbox; baker's twine - Shabby Green Door; pen - Uniball
Countdown: {93 days before Christmas}
-Pia
09.22.10